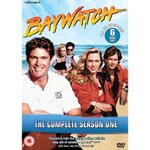 All 22 episodes of the original, first season of BAYWATCH, which aired on NBC, is coming out on DVD on Monday in England. A first season boxed set of BAYWATCH episodes is also coming out on the same day on these shores… only they are entirely different episodes. Confused? I know I was.
The first season that's coming out on DVD here is actually season two, the first


syndicated season of the show. The U.S. boxed set reportedly has two episodes from the real first season, which they are calling "the lost pilot season." If that wasn't bad enough, the episodes in the U.S. are also missing the original score. What were they thinking? The only reason I care at all about this debacle is because I wrote a bunch of first season BAYWATCH episodes on NBC and, as bad as they were, I wouldn't mind having them on DVD… so I had to shell out $65 to get the Brit version which, by the way, will only work on a multi-standard player or on your computer.