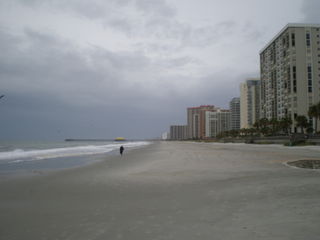 The sun was out today in Myrtle Beach, where  I am speaking at the South Carolina Writer's Conference. I had some interesting encounters today…in the elevator, a woman said  to me:
"How much of your books does Tony Shalhoub write?"
"He doesn't write any of part of them," I replied.
"Then why is his face on the cover?"
"Because  he plays Adrian Monk on the TV show."
She narrowed her eyes at me. "Don't you think that's deceiving readers?"
Another woman came up to me later in the day and said "Your books are very funny. Why aren't you as funny in person?"
Before my screenwriting seminar, a woman approached me and said "I'd like to attend your class but there's a more interesting one  at the same time."
Other than those comments, it has been a great day…a long one, and tiring, but a lot of fun anyway. And I had the pleasure of signing with my friend Michael Connelly and introducing him as our keynote speaker. He was an engaging, self-effacing, and inspirational speaker, as always.
Tomorrow I have  two more classes/seminars and then I take a late flight back to Los Angeles.