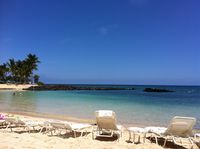 REMAINDERED screened today and received a very enthusiastic reaction from the audience. That was nice, but I have to say we're up against some stiff competition. I've seen a lot of great shorts this week…and every single one that I saw today was very well done, particularly THIEF, about a little boy who befriends a young Saddam Hussein in 1959 and then comes face-to-face with him again in 2003. It's not going to be easy for the judges or the audience to pick a best short from among so many fine films. 
Before the screening, I spent some time on the beach. I glanced to my left and was startled to see Harlan Coben staring back at me. Alas, it was not the man himself but his enormous photo on the back of a hardcover book that a tourist was reading. I took a picture of the tourist, which I emailed to Harlan, then chatted with the guy, who was very nice. He's a salesman for a big drug company that is rewarding its best reps with an all-expense-paid trip to Hawaii that also includes elaborate banquets by the beach, tons of free tours & activities, cash money for expenses, and goodie bags in their rooms each day stuffed with things like Raybans and cameras. I should have been a Viagra salesman instead of a writer.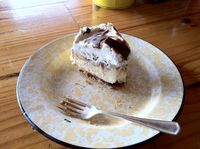 After the screening, I drove up to Waimea to Huli Sue's Barbeque. Their ribs aren't bad but what  I really went up there for was their incredible Banana Cream pie…which may just be the best Banana Cream Pie on earth.  
Then it was back to the Fairmont Orchid, where I hunkered down to work on MONK…well, that was the intent, instead here I am writing this post.
Tomorrow is the Golden Honu Awards Brunch, a concert, and the Best of the Fest screening. In between, I'm going to try to squeeze in some more lazing around.