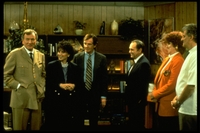 The TV Series Finales site charts the many reunions of the THE BOB NEWHART SHOW characters in other sitcoms and specials in the years since the series ended. Everybody knows about Bob & Emily's surprise reappearance in the finale episode of NEWHART…but did you know that Bob and his secretary Carol showed up in MURPHY BROWN episode?
Murphy Brown – "Anything But Cured" episode from March 14, 1994.
A regular joke of the sitcom is that the title character (played by
Candice Bergen) had to endure a long line of incompetent and strange
secretaries. In one episode, her secretary turns out to be Carol and
she's the perfect aide. Unfortunately for Murphy, Bob appears at the
end of the episode and begs Carol to come back. He says that the office
is a mess; Jerry's got his files all messed up and Mr. Carlin thinks
the temp is out to kill him. After getting into a bidding war and
trading barbs with Murphy, Bob wins out. As Bob and Carol leave in the
elevator, Bob is cornered by insecure Frank Fontana (Joe Regalbuto) who
is looking for some free psychological advice. Bonerz was a frequent
director on Murphy Brown but didn't direct this particular episode. Wallace was nominated for an Emmy Award for her appearance.