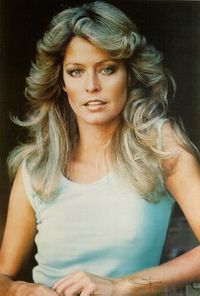 Boobs are back on TV…and in a big way…this season with CHARLIE'S ANGELS, PAN-AM, and THE PLAYBOY CLUB, to name a few. As The Wrap reports:
Martha M. Lauzen, Ph.D., the executive director for Center for the Study of Women in Television and Film, suggests that, particularly in dour financial times, male viewers — not to mention the overwhelmingly male decision-makers at the networks — might be looking to retreat into less complicated, more comforting times.

"In times of economic and social upheaval and difficulty, nostalgia and a longing for an era when life seemed simpler tend to bloom," Lauzen said.

That could be especially true in an era when men — at least the ones not on TV, anyway — find themselves losing economic and social ground to the fairer sex.

"As women continue to gain economic, social and political power, there is always some sort of backlash, a desire to put women 'back in their place,'" Lauzen adds.

"These programs may reflect that type of wishful thinking."

Naturally, those involved with the series have a different take on the matter. At the Television Critics' Association press tour earlier this month, "Pan Am" star Christina Ricci dismissed cries of sexism, claiming that her series provides "a really great message for young girls and women … [Air travel] is something that's exciting for these women. We're as excited as the passengers are."

Never mind that the Pan Am stewardesses were subjected to mandatory girdle-wearing and weigh-ins. Or that the trailer for the series prominently features a clip of one of the stewardesses stripped down to her bra as she frantically changes clothes in the back of a taxi.
I,for one, can't wait for the new take on THREE'S COMPANY as a female-empowered show…with female empowered breasts.