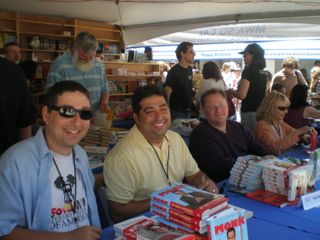 It was another fine day at the Los Angeles Times Festival of Books. I chatted with lots of authors and readers….and did a signing with my brother Tod, William Rabkin, Patricia Smiley and Denise Hamilton. BURN NOTICE creator Matt Nix also stopped by and signed some books wih Tod. I showed my MWA spirit, and my rippling muscles, by wearing the new SoCal MWA t-shirts that were hot-sellers at our booth. 
I was in so much back pain yesterday that I neglected to do a proper run-down of events here when I got home (all I wanted to do was lie down). So I didn't mention that Tod and I ran into Joseph Wambaugh, who gave my brother a big hug and me a signed galley of his upcoming novel HOLLYWOOD MOON. I think Tod was envious. Friends get hugs, fans get cool galleys.  
Tod moderated a very funny panel on humor and race with Christian Lander, Lalo Alcaraz and
Larry Wilmore and only made a half-dozen references to mastubation and didn't mention his bowels even once. 
Some other observations…
The green room served the same food that they have in years past, which made me wonder if we were actually eating left-overs to save money.  
Barnes & Noble, Borders, Book'em and some other bookstores were noticeably absent this year but there were a lot more booths for self-publishing companies, cults (Scientology had at least two booths) and products, including one for Volvo. 
This was the first year that I saw a couple having sex at the Festival. Granted, it was in the parking structure, but it still counts. It's nice to know that books still make some people hot.
After my panel signing, me, Craig Johnson, and Robert Dugoni went over to the tent selling our books and offered to sign the remaining stock. But they were already packing the stuff up. I suggested they might want to keep some signed stock around for people who couldn't make it to our panel. The clerk says "we aren't a bookstore, we're the School of Health Sciences. We don't sell books." Apparently, they were only making the books available for the panels and then immediately packing up the unsold stuff without even trying to sell it over the rest of the Festival. This seemed particularly dumb to me. Authors and readers lose out…and so did the School of Health Sciences, which missed out on lots of potential sales. See, in past years, B&N or Borders handled the panel signing sales…and kept the books available all weekend, which was great. It meant you didn't have to snag immediately after the panels… you could come back later…in fact, you could browse by several times during the course of the Festival and always find new stuff. I wonder why the UCLA Bookstore didn't handle the sales this time. In any case, I hope they find a bookseller…or at least someone who will behave like booksellers…next year. 
(You can see more of my Lee-centric book fest photos
here
. I took lots of shots of the MWA booth, and the MWA sponsored panels, for our friends on the MWA National Board.  I wanted to show them the big bang we got for our sponsorship bucks)