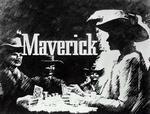 It's the best deal on DVD — for $5.99, including shipping, you can get set of three classic episodes of MAVERICK from DeepDiscountDVD. My copy just arrived today. The set includes "Shady Deal at Sunny Acres" (as fresh today as it was 50 years ago), "Pappy," and "Gunshy," the hilarious spoof of GUNSMOKE. MAVERICK was a ground-breaking show in its day and paved the way for the likes of MOONLIGHTING, THE NIGHT STALKER, and THE ROCKFORD FILES.
MAVERICK also holds the distinction of being the only show revived three times in three years on three networks. For more about that, there's an excerpt from my book TELEVISION SERIES REVIVALS on the jump:
Maverick
Bret and Bart Maverick (James Garner
& Jack Kelly) were two cowardly cardsharks traveling the West, just trying
to make a buck. The last time we saw them, Bret had wandered off to parts
unknown, and Bart was joined by Beau Maverick (Roger Moore) from
England
and
long-lost brother Brent (Robert Colbert). They seemed destined to perpetrating
cons, running scams, and dealing cards until the law, or a bullet, caught up
with them first. And, 16 years later. it looks like both have caught up with
Bart.
Bret rides into
Las
Vegas
to collect a $1,000 debt from brother Bart. Upon
his arrival, he learns that Bart has been killed. Bart, of course, is not dead
but in the middle of another of his schemes, one that also involves yet another
Maverick relative, Beau's son Ben (Charles Frank), who was educated at Harvard
and by some of the toughest poker tables in the land. Ben ends up hitting the
trail with con woman Nell (Susan Blanchard), searching together for fun and
profit while under the wary eye of Marshall Edge Troy (John Definer), who
distrusts all the Mavericks and frequently encounters them in his travels.
Bret, meanwhile, journeys to
Sweetwater
,
Arizona
, for a high‑stakes poker
game.

When he rides into Sweetwater, no one is asking "Who's
the tall dark stranger there?" Children run alongside his horse, women
gather to gawk, and photographers lie in wait to capture his famous image on
film. "Are
you gonna win, Mr. Maverick?" asks a young admirer.

"Well, son," replies Bret with a sly grin, "I
didn't come here to lose." And he doesn't. He ends up with $100,000 cash
and the deed to the Red Ox Saloon.


With the large booty in his hands, and after "too many
trail towns, too few and far between," the legendary gambler decides he
has reached the end of his trail to "who knows where." Bret buys a
large ranch, settles down to raise bulls, and becomes a partner in the saloon
business with the town's ax‑sheriff, Tom Guthrie (Ed Bruce).

Yet Maverick seems incapable of truly retiring. The last time
we see him, he is on the short end of a swindle, bamboozled by his very own
brother Bart.


"Maverick" was more than a legend of the West; it
was a legendary television series. Like most legends, it refused to die.

It has been 30 years since "Maverick" premiered, but
its influence can still be felt in shows like "Moonlighting,"
"Simon and Simon," "Magnum PI and "Remington Steele."

The
Mavericks, Bret (James Garner) and Bart (Jack Kelly), were frontier gamblers
who roamed the west in the 1880s and the airwaves on ABC form 1957 to 1962.
Maverick was more than just the story of two cowardly cardsharks running cons,
running from danger, and running from responsibility. This wry western, marked
by cleverly crafted scripts lampooning the genre, has become both a historic
landmark and something of a microcosm of the entire network programming
approach from the late 1950s to the early 1980s. Twenty years after the
Maverick boys cashed in their chips, all three networks would deal out their
own version of a "Maverick" revival.


To understand ABC's pilot "The New Maverick," CBS'
short‑flight series "Young Maverick." and NBC's "Bret
Maverick," one must go back to the original, a Western series which Cecil
Smith, the L os Angeles Times television
critic. then considered "a ring‑tailed wonder of a show, the best thing to
happen to television since coaxial cable."


Television was a new frontier when "Maverick"
premiered, a fact that perhaps was symbolically represented by the astonishing
number of westerns on the air. The dozens of lanternjawed upholders of law and
order, differentiated only by the size and style of their weapons. seemed
chiseled from the same granite of heroic preconceptions.


Roy Huggins, producer of the hit "

Cheyenne

," was fed up with the overkill
of altruistic cowboys. So he created the Maverick brothers, gamblers who
shunned responsibility but ultimately, and reluctantly, behaved like heroes.
"My dream was to do a Western where when the beautiful girl walks up to
the hero and says 'Help me, please,' the hero won't say, 'What's wrong?' He'll
say, 'The sheriffs of office is thataway' and point down the street." The
stereotype‑crushing appeal of "Maverick" was almost instantaneous,
and the series trounced its competition in the ratings, staying on top for two
seasons and making a star out of James Garner.


The episodes that worked best revolved around greed, satirized
conventional heroes. and relied on deft characterizations. While every other
cowboy series was steadfastly earnest, "Maverick" had a keen comic
style built on shrewd writing and casual, self‑deprecating humor.


"We nearly killed the cowboy shows altogether," says
Garner. "It was hard after watching 'Maverick' Maverick' to see those guys
go around being brave without laughing." At first, Garner was the sole
star of the series, but when the producers couldn't shoot the episodes fast
enough to meet network demands, a second brother played by Jack Kelly was
brought in, along with a second production crew, to relieve some of the pressure.


"I still enjoy a certain diminishing luster for having
done 'Maverick,"' says Kelly. "I think we are the only two actors who
have been on all three networks playing the same roles." The scripts for
the two actors, Huggins says, "were interchangeable?" but while the
ratings favored both actors, the audiences turned Garner into a star and left
Kelly, meanwhile, back at the ranch.


Huggins left the series after two years, taking the ratings
with him. Garner stayed on for another year before walking out in 1960 over a
contract dispute. Warner Bros. contract player Roger Moore came in as Cousin
Beau Maverick, the black sheep of the family, and alternated with Kelly during
the fourth season.


Moore

left after one year, despite kudos from the Warners top brass
and an impressive audience following because "I was not served well, I'm
afraid, with the scripts," he says. "They promised that they would
tailor them the way I felt they should be. They didn't, so I left. If I had
scripts like Roy Huggins and Marion Hargrove used to write, I would have stayed
on."


In a last‑ditch effort to recapture the James Garner charm,
the producers hired Robert Colbert and created a never‑mentioned third Maverick
brother‑Brent Maverick ‑ for him to play. Colbert looked and dressed like
Garner, but couldn't garner the same ratings.


"Maverick" halted production, weathered the
remainder of the 1961‑62 season with reruns from the first season, and then was
canceled. If "Maverick" had been just another Western, it would have
languished in syndication, just another forgotten show to play off in the wee
hours of the night.


In television history, 1979 may become known as the year of
the Great Resurrection. "Gilligan's Island,""The Brady
Bunch," "Sanford and Son," "Cannon," "The Mod
Squad," "The Avengers," "Father Knows Best," and
"The Millionaire" were just a few of the series brought back from the
dead. Caught up in this kneejerk nostalgia, ABC assumed television's second
generation was ready for a second generation "Maverick."


Charles Frank was introduced as Beau's Harvard‑educated son
Ben Maverick in "The New Maverick," a two‑hour pilot for a proposed
series. Garner and Kelly were reunited in guest‑starring roles.




"The whole revival trend came because of a lack of
creative thinking," says Garner. "I think sometimes it's just easier
to go back and say 'let's try this and this' because they are tried and true.
The shows may not be right for an era, but I think they think they can go back
and win again off some of the old hits."


They did with "The New Maverick," but ABC, perhaps
realizing the real attraction was not Frank but Garner and Kelly, passed on the
series. But CBS was interested and ordered a new two-hour pilot entitled "Young
Maverick," starring Frank again and his wife Susan Blanchard, as his spunky
girlfriend. The pilot led to a six-episode series.
The networks, wary of taking a big, financial risk on full,
13-episode orders, were falling in love that years with the idea of
short-flight series, much to the chagrin of producers who found it impossible
to recoup their production costs if they didn't get renewed. It is virtually
impossible to syndicate a mere six episodes.


Not many of the short‑flights took off. "Hager,"
"Beyond Westworld," "Time Express," and "Semi‑Tough"
were among the many which lived and died in obscurity. "Young
Maverick" joined the list. "I'm not sure the world was ready for a Mom‑and‑Pop
Western," says veteran "Maverick" writer Marion Hargrove,
"a Mr. and Mrs. Maverick and all that crap."


Meta Rosenberg, producer of "The New Maverick,"
believed "Charles Frank just wasn't Maverick." What is Maverick,
then? Ask NBC, and they'll say it's James Garner.


The nostalgia trend took on a new form in 1981. The straight
revivals were replaced by bland imitations. Television stars from years past
were dusted off and given new, but strikingly familiar, series. Robert Stack,
Gabe Kaplan, Angie Dickinson, Lee Majors, James Arness, Rock Hudson, Mike
Connors, and even Fred Flintstone were among the old faces reappearing on
screen.


And James Garner, fresh from the success of "The Rockford
Files," returned to the role that made him famous in `'Bret
Maverick," a NBC series which was a perfect example of the rampant
practice that season of packaging shows around stars.


"Garner had signed a deal with Warners and NBC to do a
series and someone said 'How about Maverick?"' says Gordon Dawson, the
creator, writer, and producer of NBC's "Bret Maverick." "That
was as deep as it went. It was a safe way for him to go."


Still, Garner says he was "very leery. I didn't want to
do it because I don't think you can beat nostalgia. I just wanted a character
like Maverick, so they said, 'Why not play him again?"'


The problem was how to bring the character back. "I
didn't know whether to do the same old thing or update it," says Garner.
"We decided to update it. I couldn't play the same character now and
besides, Maverick was 20 years older himself."

So, in the two‑hour pilot, Bret wins $100,000 and a saloon in
a highstakes poker game in

Sweetwater

,

Arizona

. Maverick convinces the
town's ax‑sheriff, played by country singer Ed Bruce (who wrote the show's new
theme), to run the saloon for him. The gambler buys a ranch, settles down, and
tries to hide from his legend.
"We let the action come to him, more or less," says
Garner. "It was a little more sedate, I think, because when you get a
little olderyou're not out there shootin' and ridin' and carryin' on with the
Indians. The time has gone by. We decided to make him older, like I was." He may not have wandered the dusty trails to who‑knows‑where
anymore, but locking "Bret Maverick" in the lazy town of

Sweetwater

every week
turned out to be the biggest gamble yet. "We had a lot of trouble with the
concept and we were absolutely ready to take the show in a different direction
the second year," says

Dawson

.
"Maverick was going to travel more. The last episode pointed the direction
we were going."

In the final episode, "The Hildalgo Thing," the ax‑sheriff
is reelected sheriff, the saloon is occupied by a madame and her girls, and
Maverick teams up with a wily young con man played by Jameson Parker' who would
later star in "Simon and Simon." Maverick is also working the biggest
sting of his career ‑‑ a $2 million con on a mysterious robber baron. When the
industrialist finally appears in Sweetwater, Bret's elaborate con comes to an
abrupt halt. The robber baron is none other than Bart Maverick. The last time

America

sees
Bret Maverick, he is laughing and hugging his brother Bart as the original
"Maverick" theme swells in the background.

There was no second season as NBC canceled the series, despite
its ranking among the top 30 shows in a season marked by an abundance of flop
series. Three times, in three years, all three networks tried to
revive Maverick"—and failed. Perhaps what eluded them was something Garner
realized only recently: "The Westerns had been dead for a long time. We
didn't have anything to poke fun at."


Perhaps "Maverick" could still be updated, brought
into a contemporary setting. Huggins doesn't think so, unless you count
"The Rockford Files." which he co‑created with Stephen J. Cannell for
James Garner.


'After all Maverick was a bum and a drifter," he says.
"You can't do bums and drifters in a contemporary environment and have the
audiences accept them." Bums and drifters? You can almost see Bret
Maverick get that pained, put‑upon expression on his face. "Bums and
drifters sounds a little harsh," he'd say, that broad, beeming smile
lighting up beneath those twinkling eyes. "Let's just say we're two self‑supporting
enterprisers who like to travel."