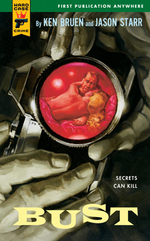 It's no secret to anyone who reads this blog that I love what the folks at Hard Case Crime are doing with their brilliantly retro covers and reprints of classic pulp paperbacks by authors like David Dodge, Donald Hamilton, Ed McBain, Day Keene, Wade Miller, Lawrence Block, Donald Westlake and my friends Max Allan Collins and Richard S. Prather. But if that was all they were doing, the imprint could easily become just a passing fad. Instead, not only are they reprinting lost classics, they're also publishing new books by authors heavily influenced by early noir like Domenic Stansberry, Allan Guthrie, and Richard Aleas (aka Hard Case editor Charles Ardai). Even without the huge boost Hard Case got from publishing Stephen King's COLORADO KID, they've generated plenty of positive buzz, a truck load of Edgar nominations, and well-deserved critical acclaim for their line of original titles. That acclaim continues with a starred review from Publishers Weekly for BUST, written by Ken Bruen and Jason Starr, two of the hottest crime writers in the biz:
This first-time collaboration between two rising
crime fiction writers is a full-tilt, rocking homage to noir novels of
the 1950s, taking full advantage of the neo-pulp Hard Case Crime
imprint. Wealthy, successful New York City business owner
Max Fisher finds himself in a delightfully familiar scenario: he wants
to get rid of his nagging wife so he can shack up with his sexy
secretary, Angela Petrakos. When Angela introduces Max to Dillon, a
former IRA hit man, Max thinks he's found his man; what Max doesn't
know is that Dillon is already Angela's man-and the two plan to
double-cross Max as soon as it becomes profitable. Dillon, however,
proves to be less a professional than a psychotic: he'd just as soon
kill "for the price of a pint" as he would for Max's wealth. Rolling in
on the action is wheelchair-bound Bobby Rosa, an ex-con with a taste
for lewd photography, guns and blackmail. As it tends to do, the
murderous plot goes awry, sending Bruen and Starr's delicious,
despicable characters scrambling for their money and their lives. A
seamless blend of Bruen's dead-on Irish underworld and Starr's hellish
vision of the Big Apple, Hard Case's latest release is smart, trashy
fun, fulfilling ably the series' irresistible promise.
Sounds just like my kind of thing. My own review of BUST will be coming soon. I've got the arc sitting here on my desk, but I have been so busy, I haven't had time to read anything for pleasure in weeks. I'm looking forward to it though… it will be my reward for finishing my next MONK novel.