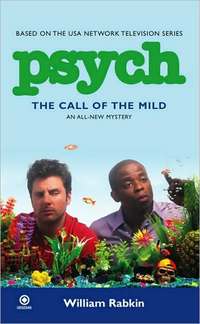 William Rabkin's  hilarious CALL OF THE MILD, his latest original PSYCH novel,  is now out at bookstores everywhere. Here's the skinny:
Shawn Spencer has convinced everyone he's psychic.

Now, he's either going to clean up-or be found out…

Shawn Spencer has always hated the wilderness-by which he means anything outside the delivery radius of his favorite pizza place. But Psych has been hired to solve a baffling case of industrial espionage, and the only way to catch the spy is to join their client's bonding retreat-a grueling seven day backpacking mountain trek.

But when one of the campers turns up with a bullet in the head, Shawn and Gus soon realize that sheer cliffs, rampaging bears, and freeze- dried pineapple aren't the greatest threats they face…
How can you resist? Go out and buy it now.