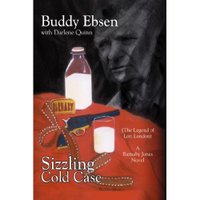 I've stumbled on something extraordinary … a BARNABY JONES novel written by Buddy Ebsen with Darlene Quinn and "published" by Authorhouse, the print-on-demand vanity press. I couldn't resist buying the $4.95 ebook version. What's interesting about SIZZLING COLD CASE is that it was published in 2006, three years after Ebsen's death, and is copyrighted by Ebsen & Quinn, even though they don't own the copyright to the TV series its based on.
In other words, it's fanfiction…and it's being sold on Amazon and on Authorhouse's site. That's a big no-no, as Lori Jareo could tell you. She wrote her own unlicensed STAR WARS novel and sold it on Amazon…and was promptly slapped down by Lucasfilm.
But this blatant violation of copyright isn't likely to turn Quinn into another Jareo, mainly because BARNABY JONES isn't a huge media property like STAR WARS, isn't protected by lawyers as vigilant as those at LucasFilm, and is based on notes from Ebsen, who played Barnaby Jones, the elderly private eye. That doesn't mean Ebsen actually owns the character…but hiding behind Ebsen's ghost and his heirs will probably protect Quinn from a cease-and-desist letter. Besides, it's not like anybody gives a damn about BARNABY JONES…and that probably includes the studio that owns the property. Can you imagine any studio suing Buddy Ebsen's family for publishing and selling "Barnaby Jones" fanfic? I can't. Even so, publishing the book and copyrighting the character of Barnaby Jones as if it was their own was a pretty ballsy thing for Quinn and the Ebsen estate to do.
I must confess that I haven't bothered reading the book. I couldn't get past Quinn's fan lyrics to the "Barnaby Jones" theme in the opening pages. I was laughing too hard:
Though many dangers now surround you
And evil lurks beneath the night
One man will fight the wrong around you
And strike a blow to make it right
When naked terror rides the highways
And sudden death waits in the street,
one man alone will roam the byways
confronting crime he must defeat
Barnaby, Barnaby — what driving force has set your pace?
Barnaby, Barnaby — can one man save the human race?
You can sing along with this: