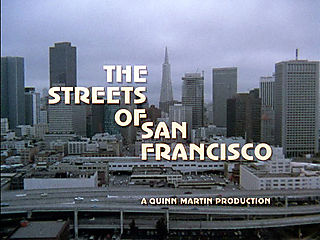 The recent announcement that CBS is developing a remake of THE STREETS OF SAN FRANCISCO made me wonder how the news was playing with the Ciscos, the diehard fans of the show who inundated ABC with packages of Rice-A-Roni a few years ago.
It isn't going over well. They have taken out a full-page ad in Daily Variety demanding the return of the show with the original cast, wardrobe, and automobiles.
"It's an outrage," said Kirby Sneed, spokesperson for the Save Our Streets Global Alliance. "Any version of STREETS without Karl Malden, Michael Douglas, and Darleen Carr would be an abomination."
His dream of a STREETS reunion nearly came true sixteen years ago when NBC mounted the TV movie/pilot BACK TO THE STREETS OF SAN FRANCISCO, which was written by William Robert Yates, one of the original producers. Malden returned, as did Carr, but he was teamed with two new partners and Michael Douglas' character was killed off. The fans felt betrayed.
"The fen have disowned the movie," he said. "We don't consider it canon."
Sneed says the "horrific creative choices" made in the movie have "been corrected in the subsequent fanfiction, but it took a lot of work."
He says that Ciscos realize that Malden, now in his 90s, might be too old to resume his part, but the fen would be willing to accept Paul Sorvino in his place, as long as he reprises his role as Inspector Bert D'Angelo, the lead of a short-lived STREETS spin-off called SUPERSTAR.
They also have "realistic expectations" as far as Douglas' participation is concerned, acknowledging that its unlikely that the feature film star would return for a TV movie. They are in serious discussions with Douglas' publicist's secretary about the possibility of him doing a cameo if a "true remake" is made.
They are confident, however, that Richard Hatch, who replaced Douglas in the series' final season, would be available to resume his role (he has already written his own screenplay for a STREET revival, which he is adapting into a comic book).
Sneed, who lives in San Francisco, has kept the series alive through fan fiction and a driving tour of STREETS locations that he offers to tourists in his1971 Ford Galaxie 500, the same model as the one Inspector Stone drove.
"It was more than  TV show," he said. "It's as much a part of the city, and its history, as the Golden Gate Bridge."