My daughter Maddie and I left the house yesterday for Comic Con in San Diego at 5:30 am and walked through the door of the convention center at 8:30. The Scribe Awards weren't until 2, so we roamed around the exhibition floor for a few hours.
I was astonished by how many bootleg DVDs of TV shows were being sold there (and at outrageous prices)…which seemed awfully brazen to me, considering so many of the legitimate rights holders were in attendance.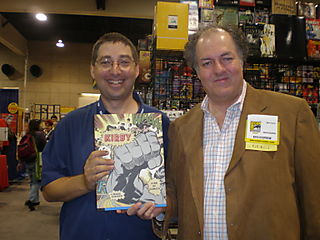 I ran into my old friend Mark Evanier, who was signing copies of his
beautiful new book KIRBY: KING OF COMICS. The book is major achievement
and I'm glad Mark is getting the big sales and wide acclaim
that he deserves for it. He hinted to me that more, equally ambitious,
books are on the way from him.
On the way to the Scribes, we scooted through the autograph area, where I always find it sad to see has-been B, C and D list stars of yesteryear signing pictures of themselves for a few bucks. As we walked by, a morbidly obese, middle-aged man was singing a song to BUCK ROGERS co-star Erin Gray, who looked like she wished she was anywhere else but where she was sitting. Richard Hatch, thanks to the revival of BATTLESTAR GALACTICA, had two or three more people than Erin. But poor Herb Jefferson, another former GALACTICA cast member, was exiled to a table far from Hatch, and sat forlornly without a single fan.
The Scribe Awards and Tie-In Panel was sparsely attended at first, but by the time we were mid-way through, we built to a nice-sized crowd. Our 2008 Grandmaster Alan Dean Foster gave a thoughtful, and very funny, speech on the lack of respect tie-in writers get from the publishing industry and their fellow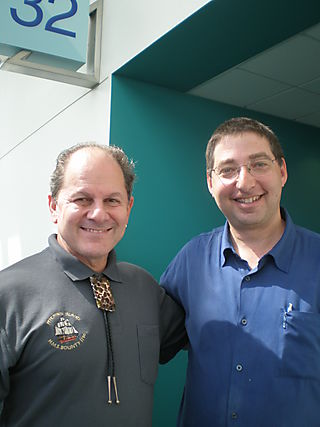 writers, despite the huge success of tie-in books. He applauded the International Association of Media Tie-In Writer's efforts to change that and to increase the awareness of tie-in writing in the mainstream media.
Other panelists included Andy Mangels, Max Allan Collins, Steve Leiva, Kevin J. Anderson, William Dietz and Stacy Deutsch. I must admit, though, that I was distracted for much of the panel by an audience member who had long hair and a beard on one half of his face and was bald and clean-shaved on the other. I couldn't help thinking that he was a man born to drive Adrian Monk insane…
That's a picture of Foster and me on the right. The Scribe Nominees and Winners (noted in bold with asterisks) are below:
BEST GENERAL FICTION ORIGINAL
CSI NY: DELUGE by Stuart M. Kaminsky
**MR. MONK AND THE TWO ASSISTANTS by Lee Goldberg
MURDER SHE WROTE: PANNING FOR MURDER by Jessica Fletcher & Donald Bain
CRIMINAL MINDS: JUMP CUT by Max Allan Collins
BEST GENERAL FICTION ADAPTED
**AMERICAN GANGSTER by Max Allan Collins

BEST SPECULATIVE ORIGINAL
LAST DAYS OF KRYPTON by Kevin J. Anderson
**STARGATE ATLANTIS: CASUALTIES OF WAR by Elizabeth Christensen
STAR TREK: THE NEXT GENERATION – Q&A by Keith R.A. DeCandido
BEST GAME-RELATED ORIGINAL (SPECIAL SCRIBE AWARD)
HITMAN: ENEMY WITHIN by William C. Dietz
FORGE OF THE MINDSLAYERS by Tim Waggoner
**EBERRON: NIGHT OF THE LONG SHADOWS by Paul Crilley
RESIDENT EVIL: EXTINCTION by Keith R.A. DeCandido
52: THE NOVEL by Greg Cox
**30 DAYS OF NIGHT by Tim Lebbon
BEST YOUNG ADULT ORIGINAL
BUFFY THE VAMPIRE SLAYER: THE DEATHLESS by Keith R.A. DeCandido
GOODLUND TRILOGY: VOLUME THREE: WARRIORS BONES by Stephen D. Sullivan
**NANCY DREW AND THE CLUE CREW #10: TICKET TROUBLE by Stacia Deutsch & Rhody Cohon
BEST YOUNG ADULT ADAPTED
**THE 12 DOGS OF CHRISTMAS by Steven Paul Leiva