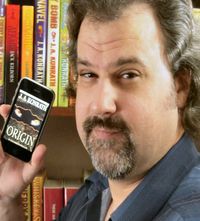 Everyone knows that Joe Konrath's books are doing remarkably well on the Kindle. But the actual numbers are astonishing. He's sold 103,864 ebooks across all platforms since 2004…78,000 of them on the Kindle. Here's how his numbers break down…and for comparison's sake, he's included both his self-published and professionally published books.
My six Hyperion ebooks, from June 2004 until December 2009: 7865
Afraid from Grand Central, from May 2009 until December 2009: 13,973
Self-pubbed titles on Kobo from May 2010 until July 2010: 132
Self-pubbed titles on Smashwords since July 2009: 372
Self-pubbed titles on iPad from May 2010 until August 2010: 390
Self-pubbed titles on iTunes from Jan 2010 until July 2010: 508
Self-pubbed titles on Barnes & Noble from June 2010 until August 2010: 2212
Self pubbed titles on Amazon from April 2009 until Sept 20, 2010: 78,412
So what does all of this mean to the home viewer? Currently, I'm selling an average of 7000 self-pubbed ebooks a month on Kindle.
The fascinating part of Joe's post are his comparisons between what he is earning from his Hyperion ebooks and what he is earning on his own. For example:
My best selling Hyperion ebook, Whiskey Sour, has sold 2631 ebooks since 2004. That's earned me about $2200, or $34 a month since it was released.

$34 a month per ebook is a far cry from the $1700 a month per ebook I'm making on my own.

Why are my self-pubbed ebooks earning more than Whiskey Sour, which remains my bestselling print title with over 80,000 books sold in various formats?

Because Hyperion has priced Whiskey Sour at $4.69 on Amazon, and I price my ebooks at $2.99.

For each $4.69 ebook they sell, I earn $1.17.

For each $2.99 ebook I sell, I earn $2.04.

So I'm basically losing money hand over fist because Hyperion is pricing my ebooks too high, and giving me too low a royalty rate.

Even the print sales (Whiskey Sour just went into a fifth printing) don't come close to making up the money I'm losing.

If we assume I could sell 833 copies per month of Whiskey Sour, I'd be earning $17,000 per year on it, rather than $5616 per year. (I'm guessing my numbers have gone up recently, and am estimating 400 Whiskey Sour sales per month.)

Let's multiply that times the six books Hyperion controls.

I'm estimating I currently earn $33,696 annually in ebook royalties on those six.

If I had the rights, I estimate I'd earn $102,000.

Do I want my books to go out of print?

Hell yeah.

[…]I'll end 2010 having earned over $100k on my self-pubbed ebooks, and that's nothing compared to what I expect to make in 2011. And I'm doing it without touring, without promoting non-stop, without spending a lot of money, and without relying on anyone.
It's no wonder that Joe has opted to focus his literary efforts almost entirely on ebooks and to turn his back, for the most part, on NY print publishers. Financially for him, it's a no brainer.
I have to admit that Joe's experience — and, to a lesser degree, my own — are changing some of my long-held beliefs about the publishing business. And it's also made me think twice about whether I should write my next book for a publisher… or for myself, a thought that never would have entered my head a year ago.