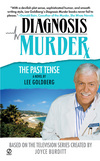 I just got my first peek at the cover of my fifth "Diagnosis Murder" novel. It's called THE PAST TENSE and may be my favorite book in the series. It comes out in August. Here's what some nice folks are saying about the book…
"What a great book! I enjoyed it tremendously. It's a clever, twisting
tale that leaves you guessing right up to the heart-stopping ending."
Lisa Gardner, bestselling author of Alone.
"Just what the doctor ordered, a sure cure after a rash of blah mysteries. Diagnosis Murder: The Past Tense has more plot twists than a strand of DNA." Elaine Viets, author of
Dying to Call You
"With a devilish plot sense, sophisticated humor, and smooth writing style, Lee Goldberg's DIAGNOSIS MURDER series never fails to please. He's as good as anyone writing in the genre today." Donald Bain, co-author of the Murder She Wrote novels
"Diagnosis Murder: The Past Tense. Seldom has a title been more appropriate. Lee Goldberg takes the utterly familiar Dr. Mark Sloan and surprises us with heartbreaking glimpses of the past that allow the good doctor to step off the television screen and into a flesh-and-blood reality. Well-plotted and beautifully rendered." — Margaret Maron, Edgar,
Agatha, and Macavity Award-winning author of the Deborah Knott mysteries.
"Lee Goldberg takes you on a streamlined ride
through 40 years of LA history with a busload of suspicious characters. The
Past Tense will quicken the pulses of longtime Diagnosis Murder fans and newcomers alike while Dr.
Mark Sloan's quest for justice is sure to
warm hearts."
– Denise Hamilton, author of the Eve Diamond crime novels,
including Last Lullaby, an L.A. Times "Best Book of 2004" "Lee Goldberg's DIAGNOSIS MURDER books are
fast-paced, tightly constructed mysteries that are even better than the TV show.
You'll read them in great big gulps!" Gregg Hurwitz, author of The
Program.