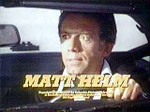 I just learned from Charles Ardai, publisher of Hard Case Crime, that Donald Hamilton, author of the Matt Helm novels, has died. Ardai's obituary is so informative and thoughtful, I'm sharing it here in its entirety as a tribute to Hamilton, who I was lucky to have met several years ago at the Edgar Awards:
Don was 90 years old. Though his name may be little
remembered today, in the 1960s and 70s he was well known as the best-selling
author of the "Matt Helm" novels, a series of well-written and popular stories
about a ruthless agent of the U.S. government who fought evil in the Cold War
world (and eventually — briefly — the post-Cold War world). Helm starred
in 27 novels between 1960's DEATH OF A CITIZEN and 1993's THE DAMAGERS;
he was also featured in several movies starring Dean Martin, as
well as a short-lived TV series starring Anthony Franciosa that reimagined the
character as a private eye. More recently, Dreamworks optioned the rights
to all the Helm novels for feature film development. A final Matt
Helm novel exists but has never been published.

Don also wrote a dozen
non-Helm novels, including several popular Westerns (including THE BIG COUNTRY,
which became the Gregory Peck movie, and SMOKY VALLEY, which was filmed as "The
Violent Men" starring Glenn Ford). And he wrote several outstanding noir
crime novels, including one — NIGHT WALKER — which we're proud to have
reprinted last year in the Hard Case Crime series.

In the last decade of
his life, Don moved back to Sweden, where he'd been born, and lived
there with his son, Gordon. He died peacefully, in his
sleep, this past November. Gordon kept the fact of his
death private until today, when he confirmed it in a phone conversation with
me.

We've lost a number of giants of the mystery field over the past few
years — Mickey Spillane, Ed McBain, and Richard S. Prather, among others — and
Donald Hamilton is very much of that caliber. He sold more than 20 million
books during his lifetime. But unlike Spillane, McBain and Prather, all of
whom were widely remembered at the time of their death, Don's passing has sadly
gone unremarked.