My friend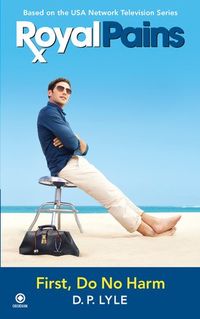 Doug Lyle, the medical advisor on my scripts & books, as well as my doctor, is writing the tie-in novels based on the hit USA Network series ROYAL PAINS. It was a series he was born to write…I just had to convince him first.
His opening novel in the series, "First Do No Harm," has just come out and novelist Laura Benedict, whom I had the pleasure of sharing a panel with at a conference in Kentucky, has interviewed him on her blog. Here's an excerpt:
Q: I know readers and writers alike will want to know how you came to be chosen for the gig. Was there a writing/audition process?

A: I have to blame my good friend Lee Goldberg for this. As you know, Lee writes the Diagnosis Murder and Monk novels. His brother Tod writes the Burn Notice novels and his partner Bill Rabkin writes the Psych novels. These are called tie-in novels because they are tied to a television series.

Penguin approached Lee about taking on the Royal Pains project, but he told them he was probably not the guy to do it but that I might be. He recommended me to them. So that's basically how it began. After I spoke with my wonderful editor there, Sandy Harding, and my equally wonderful agent, Kimberly Cameron, I finally decided to sign a two book deal with them.

Q: Royal Pains is such a fun television series. Were you a fan, first? You've done a terrific job with the characters' voices in First, Do No Harm–particularly Divya's. Does it help to have live actors as models for the characters that you're writing?

A: Thank you. I'm glad you liked the characters and the story. Yes, I watched the TV show before I was ever approached to write the novels. Though I have problems with some of the medical stuff that Hank does–couldn't happen in the real world–I really enjoyed the characters and their interaction. I liked the humor and I liked the other characters that surround the four main ones. And I thought it was an interesting premise.

As for having live actors as models, it's a double-edged sword. I have these characters that are already created and so therefore I don't have to come up with new characters out of whole cloth. But, it also means that I can't tinker with them or take them in directions that I would like. You are constrained by the creators and the TV series as to what you can and cannot do. But overall it was fun.
He goes on to share more about wriing the ROYAL PAINS novel, as well as his other fiction and non-fiction books. You'll want to check it out.