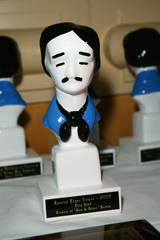 I was asked – okay, more like begged — to chronicle the hilarious history of the Edgar for the Edgar Awards banquet program. Unfortunately, you'll find more laughs reading the tax code. I hate to say it, but the history of the Edgar Awards is almost as boring as an Edgar banquet.
Perhaps that's why they didn't run the article (something I only found out about today when my copy of the program arrived in the mail). But since I hate to waste anything that I've written, I've reproduced some of it here:
The Edgar Awards were launched shortly after the Mystery Writers of America was created in 1945. None of the organizers wanted, at first, to give an award for Best Novel because they were afraid that any writer who didn't get the award would quit the MWA. So they only honored a Best First Novel. It wasn't until 1953 that they decided to take the risk. But if you see a bunch of authors walking out en masse tonight when the Best Novel award is announced, now you know why.
The ceramic Edgar Allan Poe statuette, made by Peter Williams, was first given in the third year of the awards. A couple of years later, Peter received an Edgar for his contribution. I'm sure he was thrilled to have another one of those Edgars around the house. (It's sort of like honoring Sue Grafton by giving her a signed copy of one of her own books, but I guess it's the thought that counts).
What's really great about ceramic Edgars is that if yours breaks, any pre-schooler can fix it for you in class. It's a shame there wasn't a pre-schooler around when, a few years back, Joel Goldman and Sandra Brown awarded Alex Berensen his Edgar in pieces.
They should probably give out honorary Edgars to anyone who has attended more than one Edgar Awards banquet. Want to get an Al-Queda member to talk? Forget waterboarding. Make him sit through a couple of comedy routines by guys who spend their days in dark rooms writing about decomposing corpses. There's a reason why Henny Youngman never wrote a serial killer novel and why you've never seen a mystery writer do a set at the Comedy Store. But it could be worse. They could sing instead.
Lawrence Block says that for years the Edgars were hosted by lawyer-turned-writer Harold Q.Masur, who worked summers in the Catskills during his teens, and told the same jokes year after year after year. One of them was about a letter to MWA that asked "Can you provide the number of mystery writers in America, broken down by sex." And Harold's answer?
"Well, the drink got a lot of them, and gambling has taken its toll, but. . ."
A lot of the same authors get nominated in the same categories year after year at the Edgars, so if you've had a few drinks, and hear John Hart, Laura Lippman, Michael Connelly or T. Jefferson Parker being called up to the dias yet again, don't panic if you're not certain whether you're conscious, or out cold with your face in your breaded chicken breast having a flashback to last year's event. Or the one before. Or the one before that.
However, the Edgars are a great opportunity to see your favorite authors in a new light. For instance, I've seen Harlan Coben naked. Before an Edgar banquet back in the 90s, when he was still in the midlist, he asked if he could change into his tuxedo in my room. I hear he's much bigger now.
Which leads me to my next point… the Edgars can also be a humbling experience.
At one of the banquets, author Bill Crider left his table to go the restroom and when he came back, he discovered that his wife Judy had given his seat to Stephen King. She wanted to talk to a famous writer instead of, well, her husband. I think Bill got stuck sitting with Jeremiah Healy and hearing about his prostate.
One author I know, who was nominated for Best Paperback Original, ran into one of the judges on that awards committee before the banquet and introduced himself to her. She'd never heard of him or his book. He took that as a subtle hint that he wouldn't be leaving with an Edgar that night and left early. He was right.
Sitting at your publisher's table is always a thrill. While you're chatting with the marketing people and publicists who have never heard of you or your book, you can also worry about whether that expensive bottle of wine that your tipsy editor just bought is going to be charged against your royalties. It probably will be.
After the ceremony, free books are given away in the lobby and hundreds of writers, publishers, and editors, who get free books all the time, rush out to get them, stuffing novels and galleys into shopping bags, cardboard boxes, suitcases and their cleavage. One year, they had MWA bouncers stationed at the doors so people couldn't sneak out of the banquet early to snag the swag. It's a miracle no one has been trampled to death yet.
But the real surprise is how authors react when its their own books that are being given away. They just can't resist taking some books to augment the three contractual copies that their publisher graciously sent them. In fact, I know of one author who was so busy hording free copies of his own book that he forgot all about his Edgar and left it behind.
I'm not sure what that anecdote demonstrates about the value placed on earning the admiration of one's peers, as symbolized by a ceramic head, as opposed to answering the demands of one's own ego, as symbolized by grabbing as many free copies of your own book as you can carry, but I'm sure it's very profound.
You can think about that tonight as Thomas Harris and Patricia Cornwell are singing their duet or Dennis Lehane is telling jokes.