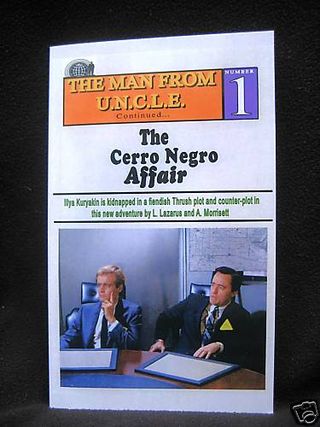 That delusional TWILIGHT fan isn't the only one trying to sell fanfiction on eBay…fanficcers L. Lazarus & A. Morrisetti have copied the look of the original MAN FROM UNCLE tie-in paperbacks from the 1960s to sell their unauthorized UNCLE novels on the auction site for $21.95 each:. 
THE MAN FROM U.N.C.L.E. Continued…
NOW FOR THE FIRST TIME SINCE THE DISCONTINUED PRINTING OF THE BELOVED ACE NOVELS, NAPOLEON SOLO AND ILLYA KURYAKIN COME TO YOU ONCE AGAIN…IN PAPERBACK!
148 pages of sheer thrills and adventure just as you remember it from the original series. This book and the rest to come in this series are near exact replicas of the original paperbacks…but with new stories. Written by an actual screenwriter, you will feel you are seeing what you are reading.
A MUST HAVE for any U.N.C.L.E. fan.
Make room on your bookshelf right next to the ACE books you have loved and cherished for all these years.
They offer this laughable "disclaimer" :
THESE BOOKS ARE NOT ACE PUBLISHED NOVELS, NOR DO WE INTEND TO COPY ANY PART OF ANY ACE PUBLICATION. THESE BOOKS ARE FOR FAN USE ONLY AND ARE NOT INTENDED FOR MASS MEDIA DISTRIBUTION.
And yet, they
have
copied the Ace books and they
are
selling them on eBay
, trying to make money off a property they
don't
own. 
This is, of course, a blatant copyright violation, but my guess is that the guys think they can slide by because the underlying property is so old. My guess is that they are wrong.
UPDATE 4-19-2009
:  They have revised their "disclaimer": 
These books are fan fiction and are not meant to infringe on any rights held by ACE Publishing, Warner Brothers, or any other entity who holds any rights to the Man from U.N.C.L.E., the television series or the previously published series of books. These books are NOT intended for mass distribution and are for fan use only!
I have news for these dimwits. Saying that you're not infringing on rights while you are doing just that doesn't make it okay. That's like saying "I'm not stealing your car even though I've just hotwired it, sped away in it, and am trying to sell it on Craig's List for money I will spend on hookers and blow. The car is intended for fan use only."