CinemaRetro has an excellent post on the making of THE FRENCH CONNECTION II, which took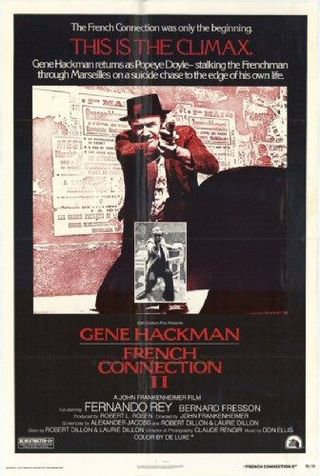 place in France. In the midst of production, director John Frankenheimer called reporter/novelist Pete Hamill to do an emergency rewrite on the script:
[When Frankenheimer] called me from Marseilles, asking me to help, I said I would
try to get there within two days. "Why not one?" he said, and laughed
nervously. I never asked why he called me. Someone hand-delivered a script to
my place in New York and I read it on the plane. John, at that
time, had a major problem. He had already shot nine days of the existing script.
He had developed a reputation for going over budget, so had no flexibility. He
couldn't re-shoot what was already in the can. That gave me a
problem too, since I had to write around the existing pieces, which, as always,
had been shot out of order. It was like working on a jigsaw puzzle.
It's not a very good movie, certainly not compared to THE FRENCH CONNECTION. Years ago, I read the FRENCH CONNECTION II novelization, which had a very different ending than the movie. 
SPOILER ALERT.
In the movie, Popeye Doyle runs along the Marseilles waterfront, trying to keep up with the bad guy, who was escaping on a yacht. Popeye eventually gets a clear shot and shoots the bad guy on the boat.
In the novelization, if I recall correctly, there's a convoluted ending involving a powerline and the bad guy getting electrocuted in a bus.