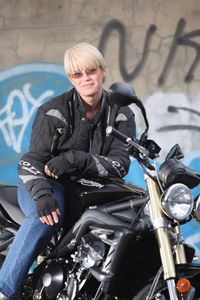 Author Tim Hallinan has interviewed my friend Zoë Sharp on the release of FOX FIVE, her new collection of stories about bodyguard Charlie Fox, the heroine of a nine terrific action novels.  Here's an excerpt:
TH: Are there now "strong woman" stereotypes, as there are "strong men" stereotypes, and if so, what are they?

ZS: LOL. I suppose there are stereotypes, yes, although for me the strong-woman stereotype is in danger of becoming a caricature. They're so often either ice-cold assassins or psychos. And the typical strong woman is rarely ugly, or even plain for instance. She's always brilliant and beautiful (and tall) and preferably troubled as well. And she worries endlessly about her figure, regardless of age.

[…]I tried to give Charlie a wry sense of humour about most things, her own looks included. Because it's a first-person narrative, there isn't a lot of room to talk about how she looks. And when she does look in the mirror, she tends to see her own scars more than anything else. But I have tried hard to keep her both feminine and human, though. She is not, as someone wonderfully put it, 'a guy in nylons'.  (Actually, I can't see Charlie ever wearing nylons, but there you go . . .)
I haven't read these short stories yet but I am a big Charlie Fox fan. Here's my blurb for Killer Instinct, the first Fox novel, which was published a decade ago in the UK and was recently re-released by Busted Flush Press here.
If you only know Charlie Fox from [her U.S. releases] First Drop, Second Shot, and Third Strike, you don't know Charlie. What you've got in your hands is a rare and special treat. It's like finding some lost Jack Reacher novel or a couple of non-alphabet Kinsey Milhones that nobody knew existed. Don't let anyone tear it from your hands without drawing their blood.

These early  books haven't been a secret, but they've been harder-to-get than Charlie Fox in your bed. Think of these as the early years of Charlie Fox − she's lethal and relentless, but still raw from the military experience that made her the kick-ass, take-no-prisoners bodyguard that she's become.

But there's more going on in these books than breakneck action and adventure. Charlie has heart, maybe too much for a woman in her profession . . . and it's that caring, that humanity, that makes her much more than a killer babe on a motorbike. These books are your chance to discover Charlie Fox as she discovers herself, her strengths and her weaknesses, and sustains the scars to her body and soul that make her such a unique and compelling character.
I have no doubt these new stories are every bit as good as the novels. And if you like them, you won't want to  miss Fourth Day, her latest Fox novel.