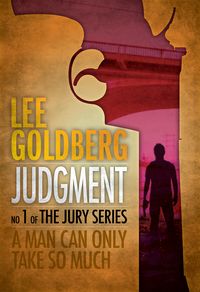 Looking for some action? The Kindle edition of JUDGMENT, the first book in the JURY SERIES, is free for the next five days on the Amazon store. Here's just some of the critical praise for my first published book, originally released as .357 VIGILANTE back in the 1980s…
"This is straight-up men's adventure material {…] So look out, folks! Here comes justice with a big freaking gun!" Bruce Grossman, Bookgasm 
"Judgment  has an amped-up, neon-bright,'burning rubber down the main drag doing sixty while blaring Motley Crue so loud you can't even think' sort of quality. And that's how I like it." –Post-Modern Pulps 
"Generous helpings of sex and violent action, along with some smart-aleck dialog. But if you're a fan of Robert B. Parker, Dirty Harry, or the Die Hard movies, you'll have a very good time,"  –J.A Konrath, author of THE LIST and AFRAID 
"Lee Goldberg's The Jury Series serves vengeance hot with loads of action and plenty of suspense to keep you turning the e-pages. Vigilante justice was never so much fun,"  –Joel Goldman, Bestselling author of "Motion to Kill" 
"As stunning as the report of a .357 Magnum, a dynamic premiere effort […] The Best New Paperback Series of the year!" West Coast Review of Books 
This is a really entertaining thrill ride of a story with plenty of sex, violence, humor, social commentary, and great action scenes. Highly recommended. –James Reasoner, bestselling author of "Dust Devils"