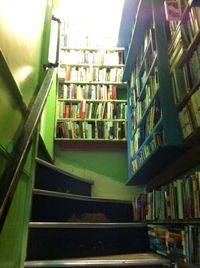 I just got back from the Virginia Festival of the Book in Charlottesville and had a wonderful time, both as a panelist and a book lover. I was in town less than an hour before I bought my first book, a signed copy of John Casey's COMPASS ROSE, the sequel to the SPARTINA, which won the National Book Award. I was thrilled…and took that as a good omen.
One of the great things about Charlottesville is that they really, really love books. They have lots of great, independant bookstores, including four used bookstores in their historic downtown pedestrian mall. I bought so many books over the first two days (including a signed first edition copy of SPARTINA, courtesy of the wonderful folks at Read It Again, Sam) that I had to send them home in a box. So even without the festival, I would have had a great time. 
The festival is first class all the way…not just in terms of the headlines (three National Book Award winners, Scott Simon, Kathy Reichs, Jim Lehrer, Mark Childress,  Alan Cheuse, Myla Goldberg, etc) but how it's run. It's classly, slick, and exceptionally well-organized. It takes place all over the charming, colonial town, which I suppose can make it seem too sprawling, but it allowed me to get a real feel for the place and it's people. There were panels & events at bookstores, libraries, big hotel, a grade school, the University of Virginia, government offices, wine bars, and local theaters.
My first event was mixer at Read It Again, Sam, were I had the opportunity to chat with author Diane Fanning, Jenny White, Meredith Cole, Brad Parks, Andy Straka, and Louis Bayard, to name a few, before heading over to the Albemarle County Office building the Friday Night Frights panel with Kathy Reichs, John Connolly, Louis, Jenny and Andy.  I was astonished to see every single book I have in print, including my CreateSpace reprints, on sale in the lobby. I could have hugged the bookseller.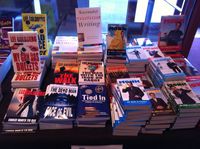 The panel was great, even though Kathy was felled by the tail-end of a bad cold. It's not easy keeping up with authors as smart and witty as John, Louis, Kathy and Jenny (who told a particularly hilarious story about the time her friends came close to accidentally killing her with belladonna). I hope I managed to hold my own. Afterwards, I hung out at a local bar with John, his publicist (and my old friend) Ellen Clair Lamb, and his friend Jeff, who works for the CIA. I had a blast, even if the crowd of college students made me feel like a grandfather who snuck into at a frat party.
The next morning I was up bright-and-early for a screenwriting panel with WKRP creator Hugh Wilson and  Oscar-winning documentarian Paul Wagner that drew a standing-room only crowd. Hugh's colorful and hilarious stories won everybody over, especially me. At the booksigning afterwards, a woman asked me what it was like to be married to Myla Goldberg and if we were competitive with one another.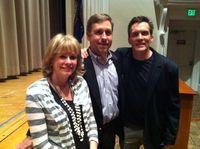 I signed a bunch of books, attended the Kathy Reichs luncheon and then scooted off to a panel with fellow Jewish authors Micah Nathan, Phoebe Potts, and Ariel Sabar, all of whom were enormously entertaining. 
That left me me with an hour or so to myself, so I did some quick sight-seeing at the University, which is beautiful, before heading to an authors reception and, finally, capping the Festival with a long and wonderful dinner at a steakhouse with Kathy Reichs and her daughter Kerry, Jenny White, John Connolly, Ellen Clair Lamb, Brad Parks, and Meredith Cole. We talked and ate and drank well past the restaurant's closing time…but the patient proprietors were kind enough not call the cops and have us forcibly removed.  
All in all, it was a terrific festival and a welcome getaway for me. With luck, the Virginia Film Festival with select REMAINDERED and I'll have an excuse to go back.
(Pictured 1. a corner of the Daedalus bookshop, 2. my books for sale, 3. Kathy Reichs, Andy Straka and Louis Bayard).