Fox is yanking DOLLHOUSE after episode 12 and will not air the 13th episode. Now, on the surface, that would scream "The Show is Cancelled." But the folks at DOLLHOUSE are spinning this news in a very odd way. See if you can follow this explanation from producer Tim Minnear:
Okay. So maybe I can help clarify this somewhat. Because we scrapped the original pilot — and in fact cannibalized some of its parts for other eps — we really ended up with 12 episodes. But the studio makes DVD and other deals based on the original 13 number. So we created a standalone kind of coda episode. Which is the mythical new episode 13. The network had already paid for 13 episodes, and this included the one they agreed to let us scrap for parts. It does not include the one we made to bring the number back up to 13 for the studio side and its obligations. We always knew it would be for the DVD for sure, but we also think Fox should air it because it's awesome.
If I understand this correctly, and I'm not entirely sure that I do, he's saying that the Fox Network ordered 13 episodes, which included the pilot, which was scrapped and cannibalized in subsequent epoisodes. But the Fox Studios made commitments to networks overseas and to a DVD distributor for thirteen episodes. So, since they were one episode short after dumping the pilot, the studio alone bore the cost of shooting an extra episode that the network doesn't feel like airing.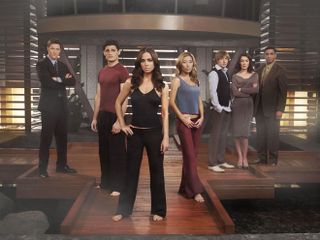 Keep in mind that the studio and the network are owned by the same people…Fox. They are simply moving cash from one pocket to another.
So here's the bottom line: Fox Studios paid to produce an episode that The Fox Network doesn't want to air (in other words, they don't want to pay a $3 million license fee for a show that's delivering terrible ratings). What does that tell you about the network's confidence in the show?
A lot.