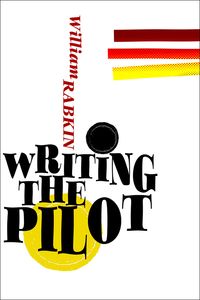 William Rabkin has a new screenwriting book out on the Kindle — Writing The Pilot — and I hate him for it.
I hate him because I only meant to browse the book the other day…but I ended up getting sucked in by his engaging, smart, and entertaining voice and spent all !@#$% night reading it.
I hate him because it would be the perfect update for our long-in-print screenwriting book Successful Television Writing.…and now it won't be, the greedy bastard.
And I hate him because I actually learned some things about a subject I thought I knew at least as well as Bill, my best & oldest friend and my long time writing partner…who also happens to be Adjunct Professor of creative writing in the University of California, Riverside's MFA Program, Palm Desert Graduate Center, and also teaches television writing at the UCLA Extension.
But even through my blinding hate, I have to admit he's a terrific and justifiably beloved teacher and that Writing the Pilot is both extremely entertaining and jam-packed with useful information.
His analysis of what makes a great pilot…vs what makes a great opening episode for a series…is simply brilliant.
His indepth analysis of the pilots for Fast Forward, Life on Mars  and Fringe were particularly smart and insightful. He also deftly uses examples from our own career, in particular our unproduced CBS pilots Ella Clah and Silhouette, to illustrate the thought-process behind developing and writing pilots (and candidly discusses some of mistakes along the way and what we learned from them).
Spec TV pilots are all the rage right now, contrary to what we said years ago in the last chapter of our Successful Television Writing, and his book couldn't be more timely. If you want to get into the TV biz, or if you are a veteran TV pro struggling with pilot-writing issues, Writing the Pilot is a must-read.
The book will soon be available in trade paperback and Nook versions as well.
(Pictured: Tod Goldberg, me, and Bill Rabkin signing at the Los Angeles Times Festival of Books in 2010)
UPDATED 8/19/2011 to add new cover.