Each Sunday, my brother Tod dissects the letters to Parade Magazine's Walter Scott and, from among that collection of idiots, christens someone a "fucktard." But this week, I've got Tod beat, whether he picks Jan G. from San Diego ("Robert Redford is as blond as ever. Why doesn't he let his hair go gray?") or E. Zimmerman of Amana Iowa ("What's with those tabloid photos of Jennfer Aniston cuddling Vince Vaughn? Are the two lovers?").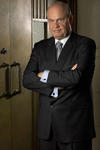 Because the biggest fucktard of all this Sunday won't be found in Parade but in the TV Q&A column in the TV Times. J. Higa of Carson, California asks:
I see former Sen. Fred Thompson in the news and he looks just like the Fred Thompson on the TV show "Law and Order." Is he the same person?
No, Mr. or Mrs. Higa, it's not the same person. They are identical twins with identical names, you fucktard.