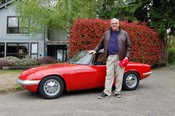 My cousin Sam Barer wrote in his Olympian car column (yes, my family is full of writers) about the incredible surprise gift that he and his brother Joe gave to their father Arnie at his 70th birthday party:
Joe and I got up and roasted our father with a series of limericks. Finally, we invited Dad up to read the last one. "For all the love you've shown us and Mom, live your dreams before they're gone. We hold the keys to your heart and we just hope it starts. Enjoy your '64 Lotus Elan." I dropped the keys into our shocked father's hands and then escorted him (and our stunned mother) to the bright red, series one roadster I'd snuck into the parking lot outside…
What a great gift. Maddie, if you're reading this, you can start saving up now for my '59 Caddy convertible.