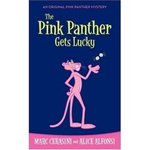 I stumbled on an unusual tie-in at the bookstore today — THE PINK
PANTHER GETS LUCKY by Mark Cerasini & Alice Alfonsi, an original
novel based on the PINK PANTHER movies. In fact, it's billed as an
"original pink panther mystery." Apparently, there is already another
one on the way. I wonder what the target audience is for Inspector
Clouseau books?