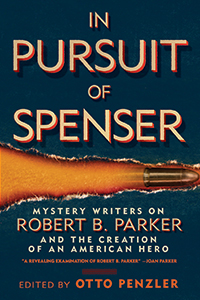 Too many of my good friends contributed to In Pursuit of Spenser, a collection of essays about Robert B. Parker and his writing,  for me to be unbiased or, conversely,  too critical in my review. 
The line-up of authors that editor Otto Penzler assembled for the book includes Loren D. Estleman, Parnell Hall, Brendan DuBois, Gary Phillips, Lawrence Block, Dennis Lehane, Max Allan Collins, SJ Rozan, Jeremiah Healy, Ed Gorman, Reed Farrel Coleman, and Spenser's new author, Ace Atkins.
I'll just say that some of the essays are much stronger than others and don't quite jell as a whole.  There's a great, indepth book to be written about Parker and his work and this isn't quite it. For the most part, this book just skims the surface, but I get the sense that's exactly what Penzler was going for. Something as breezy and light as Parker's fiction. 
At times, the book reads more like an extended memorial, what friends and admirers might have stood up at the podium to say at Parker's service, had they been given the chance. And it's those essays in particular, the more personal ones from Lehane and Block, that are the most entertaining and revealing.  Block obviously admired Parker's craftmanship but also didn't pull any punches. You can read his chapter here.