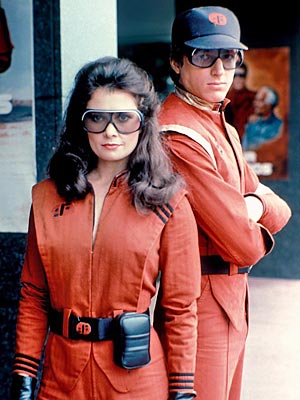 Hot on the heels of THE BIONIC WOMAN and KNIGHT RIDER, ABC has greenlighted a pilot for a "reimagined" version of V, the NBC alien invasion series that starred Mark Singer,  Robert Englund and Jane Badler (pictured on the left). Variety reports:
The new "V" centers on Erica Evans, a Homeland Security agent with an aimless son. When the aliens arrive, her son gloms on to them — causing tension within the family.
Like the original, show centers on visitors who say they've come to help the Earth — but their motives are nefarious.
V writer/creator Kenneth Johnson isn't involved in this version, which will be written and produced by Scott Peters from THE 4400.