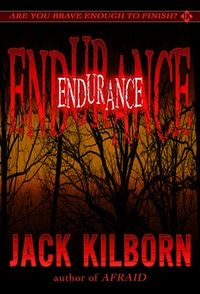 My friend Joe Konrath can't stop making Kindle news. A month ago, he announced that Amazon Encore will be publishing his next Jack Daniels novel, first as an ebook exclusive and then as a trade paperback. Yesterday, he upped the ante and announced that he's giving up on print altogether and putting all his chips on the e-format, primarily the Kindle. And he's kicking it off with the Kindle publication of ENDURANCE and TRAPPED, two horror novels originally commissioned by a print publisher… but that he pulled from them rather than accepting the editorial changes they wanted him to make. Joe writes, in part:
Last year, some fans asked me to put my early, rejected books on Kindle so they could read them on their cool new device. I figured it couldn't hurt to try.

Fourteen months later, I've sold over 52,000 ebooks, and will earn over $100,000 this year on Kindle sales alone. On books that NY Publishing rejected.

So now I've taken the next, logical step. ENDURANCE (now available on Kindle for $2.99) is being released exclusively as a self-published ebook.

I've gone from desperately wanting to be accepted by NY Publishing, to completely ignoring NY Publishing.
And for him, I predict it will pay off handsomely. As of 10 pm tonight, ENDURANCE is ranked #42 out of all the books available in the Kindle store… and #1 in horror. I think his book is going stay at the top of the Kindle lists for some time to come. And if this book does a fraction of the business that AFRAID, his first Jack Kilborn horror novel, did as an ebook, then Joe is going to make a hell of a lot of money out of this…certainly more than he could would have made sticking with his publisher.
But I want to stress that I believe that Joe's success is the exception, not the rule. Mid-list or newbie authors who yank their books from publishers over editorial notes and go the Kindle route shouldn't expect to do nearly as well as he has. He is a very special case. 
Prior to his ebook success, Joe was doing well in print… and heavily promoted his books by attending dozens of conferences annually, sending out thousands of newsletters, and visiting hundreds of bookstores across the country (if I am not mistaken, I believe he landed in the Guiness Book of World Records for most bookstore signings in one year). He had a considerable blog presence and significant name recognition before embarking on this Kindle course. 
There's no question that Joe is blazing a trail in ebooks… and doing incredibly well at it. I am one of many authors who have benefitted from both his example and his great advice…but I fear that aspiring writers will read about his success and believe it's a short cut that will lead them to a pot of gold. And it's not. 
He paid a lot of dues, suffered a lot of rejection, honed his skills, and established a strong, professional reputation before he got where he is. That's very important to remember before you decide to follow his path…which, contrary to what you might think, isn't necessarily paved with gold.