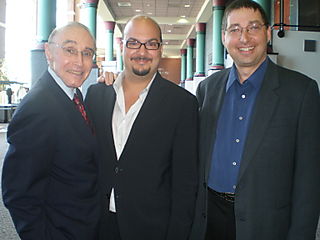 This was the final day of the International Mystery Writer's Festival. CSI Creator Anthony Zuiker and I did a panel together that became a wide-ranging discussion about TV, the state of the industry, and the balance between story & high concept in a series (that's Bob Levinson, striking his usual pose, with Zuiker and me). It was a lot of fun and I think I found it as informative as the enthusiastic audience did. I caught the last stage performance of MAPES FOR HIRE (which the local newspaper reported today may be heading to Monterey as early as August) and was a presenter at the Second Annual Angie Awards, where special honors/statuettes were given to Zuiker and Mary Higgins Clark for their contributions to the mystery genre. At the riverfront "after party," I chatted for quite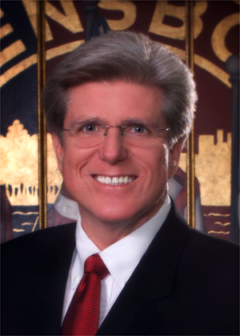 some time with Owensboro Mayor Tom Watson who, in addition to being extremely affable and engaging, is the widest man I've ever met. Not fat, W I D E. I mean he's just huge…and strong. He casually slapped me on the back with a hearty laugh, dislocating my shoulder and paralyzing me from the neck down for ten minutes. You don't want to arm-wrestle with this man.
All in all, I had a fantastic time…as both a participant and a play-goer, and look forward to attending the Festival again some day. A woman who came to one of my booksigning even invited me and my family to stay at her home, that's how friendly and hospitable people in Kentucky are. I lost count of how many women, young and old, called me "honey," "sweetie," "sugar," and  "sweetheart" this week. I'm afraid if my wife comes with me next time, she's going to think I slept with every woman in town.