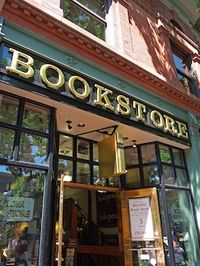 Authors talk a lot about the power of hand-selling, how a bookseller's positive recommendation of a book means more than all the self-promotion, blogging, and twittering you can do. That's because customers trust that booksellers are knowledgeable and well-read…and that they are sharing an honest opinion when they recommend a title and are telling the truth when they say a book is particularly popular with their customers. But that could change if independant booksellers follow the sleazy example set by the Boulder Bookstore, where the booksellers are being paid off to recommend certain books and to claim a book is a "local favorite" when, in fact, they haven't read the books and they aren't local bestsellers:
The "Recommended" section at the Boulder Book Store, an independent bookseller in Colorado, features a mix of titles and genres. And also: a mix of distribution models. Among the traditionally published works on display stand a smattering of print-on-demand titles — many of them being sold on consignment by authors from the Boulder area.

They've paid for the privilege. The store charges its consignment authors according to a tiered fee structure: $25 simply to stock a book (five copies at a time, replenished as needed by the author for no additional fee); $75 to feature a book for at least two weeks in the "Recommended" section; and $125 to, in addition to everything else, mention the book in the store's email newsletter, feature it on the Local Favorites page of the store's website for at least 60 days, and enable people to buy it online for the time it's stocked in the store.
It's another attempt to separate aspiring, self-published authors from their money. The bookstore is offering the self-published authors shelf-space for a small fee, which would be laudable if it wasn't coupled with misleading the public into thinking the books were actually read by the bookseller and popular among their customers.
And for the self-published, print-on-demand author, it's one more check to write on top of what they've already paid for the book to be published, what they paid to buy copies of the book to resell, and what they paid to have them shipped. Add to that what the bookstore is charging to stock and dishonestly "recommend" the title as a "local favorite," there is slim chance the author will ever make a dime on his books…
To be fair the Boulder Bookstore, what they are doing is giving self-published authors a chance to get their books on a store shelf…something few bookstores are willing to do. And booksellers charging publishers for store placement isn't entirely new: Barnes & Noble and Borders charge publishers for front-of-store placement and prominent displays. However, and I may be wrong about this, the big bookstore chains don't charge publishers a fee to have their books "recommended" or falsely listed as a local bestsellers. But whether B&N does it or not, that doesn't make accepting pay-offs to deceive customers any less sleazy and shameful.
Photo of Boulder Book Store by Jesse Varner used under a Creative Commons license. Thanks to Richard Wheeler for the heads-up on the article.