As usual, I had a fantastic time at the Los Angeles Times Festival of Books. I got to talk with so many writers, including Hannah Dennison, Brett Battles, Denise Hamilton, Gregg Hurwitz, John Wirth, Jane Smiley, Doug Lyle, Paul Levine, Cara Black, Joseph Wambaugh, Gary Phillips, Megan Abbott, Alex Espinoza, Cecil Castellucci, Tim Maleeny, Robert Gregory Browne, and Robert Dugoni, to name just a few. I also talked to tons of readers and bought a bunch of signed books, including "Model Home" by Eric Puchner, "Up in the Air" by Walter Kirn, and "A Bad Day for Sorry" by Sophie Littlefield. Here I am with my brother Tod and William Rabkin at the Mystery Bookstore booth.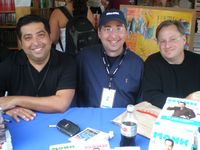 And here's Christopher Rice, me, and Joseph Wambaugh.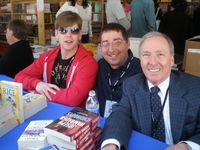 And here I am with Todd Reynolds, who is going to be one of the stars of the short film I am shooting in Owensboro KY this fall.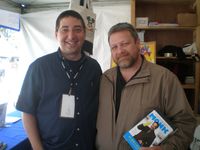 I moderated a panel with Gayle Lynds, Christopher Rice and David Corbett and it went great. It was a nice mix of laughter, good advice, and knowledgeable observations about the craft and business of writing. I think we had as much fun as the audience. I hope I get to moderate another panel next year.