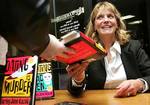 Over at Lipstick Chronicles, Harley Jane Kozak talks about her efforts to sell her award winning novel DATING DEAD MEN as a TV series:
Being
clueless, we did what any pair of neophytes would do: we bought a book.
"Writing Treatments That Sell, or, How to Create and Market Your
Story Ideas to the Motion Picture and TV Industry" is written by
Kenneth Atchity and Chi-Li Wong, who assure us that "success comes
through individual effort combined with access and luck . . . . " Well,
hey. That's got Wendy and Harley written all over it.
So flash forward a year. Yes, it took Wendy and me a year to write
the treatment—or bible, as Kenneth and Chi-Li tell us it's called in
television. Put that way, it doesn't sound so bad. How long do you
suppose King James spent on his bible? Anyhow, that brings us to this
week, the week that we began to Take Meetings.
Her first meeting ended up being with two producers she'd slept with. More than once. But not together. I hate it when that happens.
And over at my brother Tod's blog, he patiently explains to one of Walter Scott's readers why Tom Cruise dates Catholic girls.
Catholicism is the second most popular religion in America, with over
63 million guilty fuckers claiming to believe in that particular story
of God. 63 million people, E.B. Do you know what that means? That means
unless you live in Utah, you probably have just as close a connection
to that religion as Tom Cruise does, though you're not terribly likely
to end up with your face buried in the cross that dangles in Penelope
Cruz's cleavage, nor will you find yourself running your fingers
through Nicole Kidman's hair in search of tangled rosaries nor can you
expect to find yourself sailing along Katie Holmes' Dawson Creek. Why?
Because the connection Tom Cruise has to those women is that THEY ARE
BIG TIME FAMOUS ACTRESSES THAT, IN ADDITION, HAPPEN TO BE INCREDIBLY
HOT WHICH, BY NO COINCIDENCE, MR. CRUISE HAPPENS TO BE AS WELL.