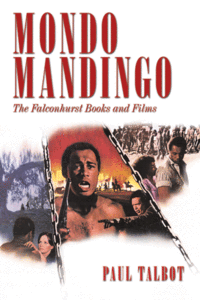 I''ve never seen MANDINGO, and I'm certainly no fan of "slavesploitation" movies, but I thoroughly enjoyed MONDO MANDINGO: THE FALCONHURST BOOKS AND FILMS,  the latest "behind-the-scenes" of movie-making book by Paul Talbot, author of the excellent BRONSON'S LOOSE: THE MAKING OF THE DEATH WISH FILMS. 
But what makes this book so special is that it's more than just a look at the making of a particular film. Talbot explores the entire "Falconhurst" saga, starting with the story behind the writing, publication and worldwide success of Kyle Onstott's lurid and controversial 1957 novel MANDINGO and its many sequels over the next two decades…and the two movies based on the books.
But it's the books that, to be honest, interested me most because one of my favorite authors, Harry Whittington, wrote many of the later FALCONHURST novels under the pseudonym "Ashley Carter." MONDO MANDINGO is worth the purchase price just for the publishing end of the story…but you also get the exhaustively detailed examinations of the stage and screen versions of the FALCONHURST novels as well.
The book is jam-packed with interviews and intriguing details. I don't have any interest in reading the FALCONHURST books, or seeing the movies, but I have a strong interest in novel-writing, publishing, screenwriting and movie-making…and on that level, the book is fascinating and informative…and, like the FALCONHURST books, a little lurid too.
If MONDO MANDINGO has a fault, at least for people who aren't diehard FALCONHURST fans, it's all the details on how the books continue, or don't continue, the various plots strands and character relationships. It becomes a dizzying and confusing mess and, frankly, I just skipped right past all of that minutae to the business stuff and the compelling stories of the authors, their heirs, and the fighting over the underlying rights to the property.
MONDO MANDINGO is a fascinating and entertaining look behind-the-scenes of the business, politics and realities of both the publishing and movie-making businesses…but more than that, I found the relationships and machinations of the colorful, eccentric, back-stabbing, creative, and sometimes very shrewd authors, producers, screenwriters, directors, publishers, and the families every bit as complex, interesting, shocking and entertaining as anything you might find in a "Falconhurst " novel. Talbot has written another remarkable and exhaustive examination of a cult-classic and all its various iterations. I can't wait to see what he tackles next.