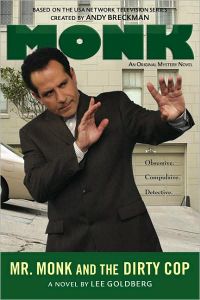 Chris Well at The Thrill of It All has given MR. MONK AND THE DIRTY COP some love. He says, in part:
Mr. Monk and the Dirty Cop is a real-deal whodunit that will have you turning the pages as Monk puts each clue in its proper place. But at its heart, this isn't just a another book where Monk works through his OCD long enough to solve a murder mystery — it's also a book that challenges some of our preconceptions about the relationships Monk has with Capt. Stottlemeyer and with Natalie. By the end of the journey, we've learned something about these people — and they've learned something about themselves.
Whether you're a fan of the TV show or not, Mr. Monk and the Dirty Cop is a gem for any fan of mystery fiction.
Thanks Chris!