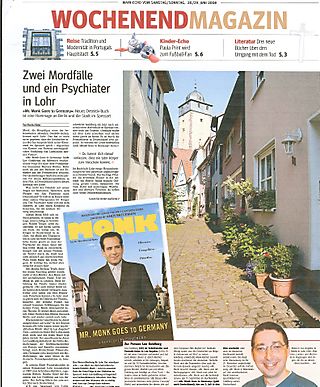 Today my latest MONK novel, MR. MONK GOES TO GERMANY, hits the bookstore shelves nationwide in hardcover. Here's what it's about:
Adrian Monk is actually doing well lately. He's
solving murders as fast as they come, and he's been noticeably less
compulsive—he doesn't count his morning Wheat Chex until they're in the bowl. Progress is progress, and Monk knows he owes it all to his therapist, Dr. Kroger.

So when Dr. Kroger attends a conference in Germany, Monk ends up in
trouble. He can't tie his shoes, forgets how to swallow, and loses
track of his blinking. Desperate to regain his footing, Monk follows
his shrink to Germany. And that's where Monk sees the man across a
crowded town square. The man he's never stopped searching for.

The man with six fingers. The man responsible for his wife's death.

Or did Monk imagine crossing paths with him?

Now, in a foreign land full of… foreigners, Monk must deal
with his multitude of phobias and contend with an especially unfriendly
polizei department in order to find the six-fingered man. He must also
confront someone who thinks Monk may have just gone officially
insane—his own psychiatrist.
Over the weekend, the book got big play in the newspaper in Lohr, Germany, where much of the story is set (if you can read German, you can see part one of the article here and part two here in PDF format). And the German edition of the book doesn't even come out until this fall. I wish I could get coverage like that here!