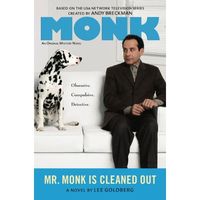 No, he's not gay. He's published.
MR. MONK IS CLEANED OUT, the 10th book in the series, is out today in bookstores everywhere.  
This is the last book that's set before the final season of the TV series…and takes place against the backdrop of the global financial crisis. Squeezed for money, the SFPD fires Adrian Monk as a consultant…again (you might recall it happened before in MR. MONK AND THE DIRTY COP). Monk figures he can live off his savings for a while. Then Natalie learns that Monk invested his money some time ago with Bob Sebes, the charismatic leader of Reinier Investments, who's just been arrested on charges of orchestrating a massive $100 million fraud. All of Sebes' clients-including Monk-are completely wiped out.
When the key witness in the government's case against Sebes is killed, Monk is convinced that Sebes did it, even though the man has been under house arrest with a horde of paparazzi and police surrounding his building 24/7.
In a sense, it's a classic "locked room" mystery…with a lot of other mini-mysteries thrown in.
The paperback edition of MR. MONK IN TROUBLE is also out. So that should keep MONK fans entertained until January, when MR. MONK ON THE ROAD…the first book set *after* the final season…is released.
Meanwhile, I am hard at work on MONK #13, tentatively titled MR. MONK ON THE COUCH, and its something of a departure from the whodunit structure of the previous books…but more on that later.