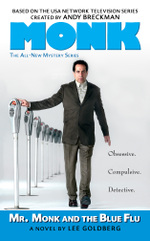 Today my third original MONK novel MR.
MONK AND THE BLUE FLU will be appearing on shelves in bookstores
nationwide. Here's what the book is about:
Monk is horrified when he learns there's
going to be a blue flu in San Francisco—until Capt. Stottlemeyer explains that
it just means the police plan to call in "sick" until they get a better
contract. The good news is the labor dispute will give Monk a chance to get back
on the force. The bad news is it means he'll be a "scab"—and he doesn't like the
sound of that either.

But before he knows it, Monk has his badge back, and his own squad to
command. Unfortunately, some of the squad members make Monk look like a paragon
of mental health. But despite the challenges, they'll have to pull together to
catch an astrologer's killer, solve a series of mysterious fatal assaults, and
most importantly, clean up their desks…
Monk has been working for years to get his badge back, so I thought it would
be fun to see what would happen if he finally got his wish…if only for a
while….and to see him in an entirely different situation than he's ever been
in before. I've been toying with the idea of a "Blue Flu" story ever since I was
first approached to write original Monk novels…but somehow it didn't seem
right to me as the way to kick-off the series of books.
Part of the fun of doing these books for me is the chance to explore aspects
of Monk's character that haven't been dealt with yet on the TV series or, as is
the case with MR.
MONK GOES TO HAWAII, go places and do things that the TV series can't
for various logistical and production reasons. I'm thinking about sending Monk
to Europe for an upcoming book, but we'll see what happens.
If you would like a signed, personalized copy of MR.
MONK AND THE BLUE FLU, they are available through Mysteries
To Die For in Thousand Oaks, California. They will be glad to take your
order online and send books almost anywhere in the world.
By the way, this is the last original MONK novel to premiere in
paperback…with the next book, MR. MONK AND THE TWO ASSISTANTS, the
series is jumping to hardcover. That book comes out in July 2007 and, as
you can probably guess from the title, is about the surprising return of
Sharona, Monk's first assistant. You can find a teaser chapter for TWO
ASSISTANTS in the back of MR.
MONK AND THE BLUE FLU