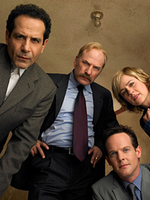 The friendly folks at The Monk Fun Page, the Monk fan supersite, kindly gave MR. MONK AND THE BLUE FLU a detailed, rave review. Here's a small excerpt:
The Monk books just keep
getting better. Better than the TV series? I won't fully commit to that, but
the novels have what the show sometimes isn't even aiming for: well executed
fair play whodunit mystery plots. The complex story, abundance of colorful
characters and high body count in Blue Flu may demand a little
more concentration than the show or even the previous two books. It's too
delightfully long and complex for an episode, but trimmed down it would make a
great entry in the series, just as the first novel (Mr. Monk and the
Firehouse) did when it was adapted for the fifth season episode
"Mr. Monk Can't See a Thing.
I'm also hoping that Andy Breckman, the creator and executive producer of MONK, will consider BLUE FLU for an episode… even if it means Monk has to be deaf, speechless, or paralyzed in this one!