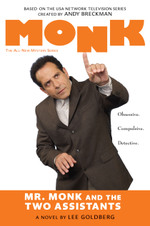 It's still a few weeks before MR. MONK AND THE TWO ASSISTANTS hits bookstores, but already a few reviews are starting to appear. Kirkus reviewed the book, but it was more of a synopsis than anything else. I can't honestly tell whether they liked it or not. I guess that's better than them hating it. I didn't have that problem with Ed Gorman's review…he obviously liked it:
There is some especially good detection here as well as some of Monk's most impressive battles with germs. Goldberg not only writes the novels, he also writes some of the TV scripts. His affection for the series shines through in these novels that are so rich with humor and character.
Thanks, Ed! Benjamin Bouldon at Gravetapping says, in part:
Mr. Monk and the Two Assistants is a humorous whodunit. It is written in the voice of Natalie, who—in this novel especially—feels very much like Sherlock Holmes' sidekick Dr. Watson, and it is great fun to watch her struggle through the twists and turns of the plot. She is often just as lost as the reader when confronted with the powerful deductive abilities of Adrian Monk, and the wonderfully outlandish murders he solves.
Mr. Goldberg does an admirable job of portraying the characters. The novel is at its best when the entire gang is on hand—Captain Stottlemeyer, Lieutenant Disher, Monk, Natalie, and Sharona. The dialogue is pitch perfect, and the atmosphere of the television series is captured very well, except, instead of a single episode it feels like a two-part extravaganza.
Thanks, Ben! Mark Baker at Epinions writes, in part:
If you're at all a fan of the show, you'll love this book. Since Lee Goldberg has written episodes of the show with both assistants, his characterizations are spot on. Not that it is any surprise since all of Mr. Goldberg's books feature great characters. And there are some great moments that explore the relationships more than can be done on the TV show. This book does a good job of filling in the story around Sharona's departure from Monk's life, and she comes out of the novel looking pretty good.
Thanks, Mark! I hope the rest of the reviews that come in are just as positive.