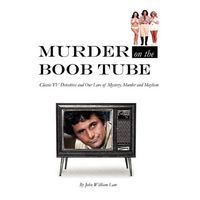 I love TV reference books, but John William Law's MURDER ON THE BOOK TUBE is, to put it bluntly, terrible in every way, factually worthless and devoid of any fresh information or thoughtful insights. The listings are superficial and generic to the point of uselessness and riddled with typographical errors and inept sentence structure.
Here are some examples from his listing for MANNIX. The typos are his, not mine:
"The show started off one one path, but changed courses after the first season and never strayed much after that."

"With less than spectacular ratings in season one, the changes were hoped to bring new live to the fledgling series"

"The showed featured an unsolved MANNIX case and use flashbacks of the original series along with present day Mannix back on the case"
And here's another example of his poor writing and proofing skills from his listing for IRONSIDE. Again, the errors and lack of punctuation are his, not mine:
"While the original series took place in San Francisco, little of the show was actually filmed there with some early location filming of the actors in popular locations and the footage would be intersperse through-out the season."
And, finally, here's an example from his listing for ELLERY QUEEN:
"At one point there were rumor's the younger Hutton might reprise his father's most famous character for a TV movie, but the closest he came was as the star of his own mystery series based on another famous detective when Timothy Hutton starred in A NERO WOLFE MYSTERY in 2001-2002."
The author hasn't done any meaningful research, hasn't interviewed anybody, and the "rare photos" he uses are merely amateurishly cropped, black-and-white scans of TV Guide covers. It's embarrassing and not worth $1, much less $14.95.