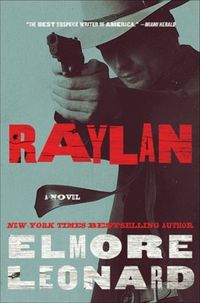 I rewarded myself for finishing Mr. Monk Gets Even early by spending my holiday weekend doing nothing but reading. 
I read Elmore Leonard's Raylan in one sitting and it was a pure pleasure, his best book in years. The book is very episodic, basically a series of thinly connected vignettes that the writers of Justified, the kick-ass TV show based on an earlier Raylan Givens short story, have stripped for parts over the last two seasons, using just about every character, scene, action beat, and line of dialogue. Even so, that familiarity didn't detract from my enjoyment, certainly no more so than reading any novel after you've seen the movie version. The prose is lean and fast-moving, the plotting relaxed and loose, and the dialogue sharp and witty. All in all, the perfect way to spend a Saturday in the sun. I hope Leonard writes another Raylan Givens book real soon. 
Although I've spent a lot of years as TV writer/producer, I'm still a TV nut who buys just about any behind-the-scenes book written about an individual series or about a network or studio. So I was eager to read Top of The Rock: Inside the Rise and Fall of Must See TV, NBC entertainment president Warren Littlefield's memoir of his days building the network's iconic 1990s Thursday night schedule, which included  hits like Seinfeld, Frasier, and ER.  Unfortunately, the book was a disappointment.
The book isn't so much written as it is transcribed… a collection of raw excerpts, snippets really, from interviews conducted with the key actors, writers, producers, agents, schedulers, and lawyers behind NBC's 1990s hits… and, of course, quotes from Littlefield himself. He and co-author T.R. Pearson are going for the feel of an oral history, but it comes off as disjointed and scattershot.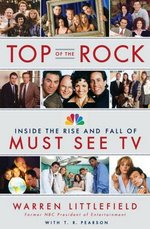 There are some interesting facts and anecdotes revealed along the way, but much of the book felt like an excuse for Littlefield to settle a couple of old scores. Way too much of the book involves Littlefield and his former subordinates trashing Kelsey Grammer (described as a difficult actor with bad judgment and a substance abuse problem) and NBC president Don Ohlmeyer (depicting him as a boorish drunk with no creative instincts who contributed nothing to the success of the network's schedule) and touting his creative brilliance. It may all be true, but it still felt like sour grapes and became very tiresome.  
All in all, it's worth reading if you're student of TV history, but it's not a very good book… not nearly as fascinating, revealing or well written as  Season Finale: The Unexpected Rise and Fall of the WB and UPN, Susanne Daniels' recent memoir of programming the WB, which later merged with its rival UPN to create the CW, a book I highly recommend.