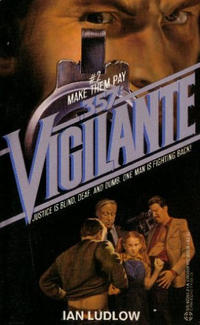 It's amazing what you find when you're procrastinating and, pathetically, googling yourself. More than twenty years after I wrote .357 VIGILANTE: MAKE THEM PAY, it has finally been reviewed:
After lengthy consideration, I have come to the conclusion that this series was written completely tongue-in-cheek, and was meant to be a mockery of Vigilante Men's Action Series such as The Executioner and The Destroyer, with an obvious nod to the Death Wish/Dirty Harry influences as well.

[…]The punchlines delivered by Mr. Jury whenever he exacts justice on a criminal are so over-the-top ludicrous, the are my ultimate proof that the entire series is a joke. Example: he notices an armed robbery taking progress in a convenience store, quickly grabs a steel level from the construction site next door, and just before caving in the criminal's skull delivers the line "You're unbalanced, buddy."
He's right…but I have to wonder why it took him "lengthy consideration" instead of a nanosecond to come to the conclusion that the books were thinly disguised spoofs.
I also discovered that Chadwick Saxelid reviewed the first book in the .357 VIGILANTE series in August and had a similar take on the, um, quality of the writing and plotting:
.357: Vigilante 1 is an amateurish, albeit modestly entertaining, relic of what appears to be an all but extinct sub-genre: the numbered category Men's Adventure novel[…] At times .357: Vigilante 1 reads like a high school student's concept of what a hard boiled man of action story should sound like (not surprising, considering that author "Ian Ludlow" was actually a college student named Lee Goldberg) or an out and out parody of one.