I must have hundreds of photos from the Mystery Bookstore, going back twenty years, but here are a few that I found lingering on my hard-drive tonight.
1. Me signing with a broken arm at the Mystery bookstore's booth at the Festival of Books.
2. Bob Levinson, manager Bobby McCue, Me, Ken Kuhlken, and Gar Haywood at a booksigning for HOLLYWOOD & CRIME.
3.  Me finally getting to meet one of my favorite authors Garry Disher and discovering that he'd dedicated his book to me.
4. Michael Connelly, Martha Lawrence and me at a 2001 signing.
5. Me and Zoe Sharp signing together.
6. Me and Victor Gischler at a Festival of Books party.
7. Jerrilyn Farmer, my daughter Maddie, and me at a booksigning.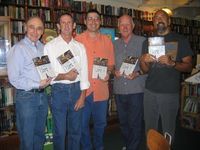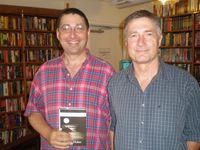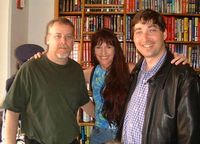 These photos don't begin to cover all the countless booksignings, readings and parties I've attended there…or all the times I just stopped in to browse for books. I remember visiting the store, back when it was in West Hollywood, and imagining what it would be like to have a book of mine on a shelf there some day. Sheldon MacArthur, who ran the store in the early days, recommended so many great books and authors to me that I probably never would have discovered on my own. He was incredibly supportive of my aspirations to be an author myself. Not only did I end up signing my first book there… but my brother signed his first one there, too. And so many of the close friendships that I have with other authors began inside that store. It's really hard for me to accept that it's closing.