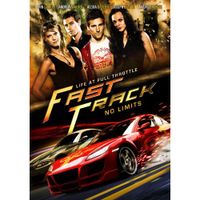 Novelist James Reasoner said some very nice things on his blog about my movie FAST TRACK: NO LIMITS, which is now out on DVD. He said, in a part:
Katie needs money to save her garage, and her only real hope is to win a series of races with her cars. (She doesn't drive herself, just provides the cars and takes part of the purses when they win.) Throw in more cops, some gangsters, a nasty villain, assorted bank robberies, beautiful women in skimpy outfits, several races, and a handful of really spectacular stunts, and you've got a highly entertaining action/adventure movie.

Most of the cast is European, but the two leads are American (Erin Cahill as Katie) and Canadian (Andrew Walker as Mike). Everybody does a good job, the script has some funny lines and several very effective dramatic moments, and the stunt drivers really steal the show. I don't know if Lee has any more of these in the works, but if he does, I'll watch 'em, you can count on that.
Thanks so much, James!