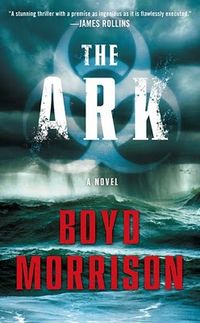 On Joe Konrath's blog, author Boyd Morrison shares the amazing story of how he turned his Kindle ebooks into a four-book print deal, kicking off with the launch today of THE ARK. His story is unusual, and inspiring, but newbie writers should read it carefully before thinking they can easily replicate his success. 
One thing he didn't do was go to a print-on-demand vanity press, and for reasons beyond just the outrageous, and unreasonably, high cost and false promises:
I decided to put all three books on the Kindle store just to see what happened. Irene (Goodman, his agent) was fully supportive of the plan. I had nothing to lose.

What I didn't do was self-publish in print because I would have something to lose. From the beginning, my goal was to get a traditional publishing deal (remember this was in early 2009, which seems not so long ago, but the ebook market was still in its infancy, and making a living from self-published ebooks seemed like a pipe dream). If I had published print books, not only would it be a hassle I didn't want to deal with, but it would also mean my novels would need ISBNs.

ISBNs are international standard book numbers that can be tracked by publishers. If my sales were low, publishers would be able to see that and might not even want to look at my next book. But with ebooks on the Kindle, you don't need an ISBN. If my sales were bad, no one would ever have to know. And if they were good, I could use that data as evidence that readers were interested in my books.
[…]Would I recommend self-publishing ebooks? It depends what your goals are. If you want to see your book in print, as I did, I wouldn't choose that path as your first option. I was in a unique limbo because I had an agent and blurbs from bestselling authors, but I couldn't get a publisher. Once my sales jumped, my agent was able to act on it immediately. If I had to start the agent search from scratch at that point, it would have been much more difficult.
Good luck doing that if you, unlike Boyd, don't already have power-house representation. But the e-book market has changed. It's actually possible to make good money on an ebook. So why go thhe print route at all? Here's Boyd's take:
My goal was always to be traditionally published. I wanted to get my books in front of as many readers as possible, and while ebooks are the fastest growing part of the market, they still represent only 3-5% of all books sold. If I wanted to reach a broad market, I'd have to be in print, and the only way to get into most bookstores is through a traditional publisher. Plus, foreign rights, which represent a surprisingly large segment of the market, would have been virtually impossible to sell without a deal with a traditional publisher. And as much as I love ebooks, there's still no substitute for holding a print book in your hands to make you feel like a real author.
I agree and am not ready myself to forsake print for the digital publication. 
But the publishing world is changing very fast. If you'd told me a year ago that I could actually make $18,000-a-year off my out-of-print work on the Kindle (or potentially $55,000 with the new royalty rate), I would never have believed it. 
So some of my attitudes are changing as a result. I am beginning to rethink the advice that I've always given aspiring writers not to self-publish their novels. I still believe that going the vanity press route is a huge mistake…but posting on the Kindle cuts the print-on-demand scammers entirely out of the equation and all the risk of getting swindled (you DON'T need Lulu or Authorhouse or any other vanity press to get your book on the Kindle or iPad, no matter what they those self-publishers may tell you). So why not do it?
On the plus side, Kindle/ebook publishing can be cost-free and, if your book is really good, and you are very lucky, you could make some real money…and, perhaps, attract the attention of a major publisher. 
But if your book is awful, and truly "not ready for prime time," you can embarrass yourself, create negative word-of-mouth, and potentially seriously harm the reputation you are seeking to build. 
I am still thinking it all through. That said, there's no question that these are very interesting, potentially game-changing times in the publishing business. I am very interested to see how Joe's two new horror novels, published for the first time on the Kindle, sell and whether the royalties match what he could  have earned with a print contract.