I've driven in a lot of U.S. cities, and quite a few European ones, but I think if you can drive in Paris, you can probably drive anywhere on earth. It's dog-eat-dog on the roads there, no rules seem to apply. It's infuriating, exciting, and exhausting.
Since I was last here five years ago, it seems as though the population has quadrupled and most of them are on motorcycles. There's less dog shit on the streets though, perhaps because it has never stopped raining. It doesn't feel like summer here at all.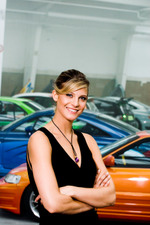 But Paris is still, well, Paris…a beautiful city and I had a wonderful dinner last night at Lasserre with my wife, actress Alexia Barlier, our international sales exec, and an exec from the French network M6, which will be airing FAST TRACK. I've never been to a restaurant quite like it. Very elegant, with five waiters doing what's ordinarily done by one. They do everything for you but pre-chew your food. In middle of the meal, the ceiling opened up…less like a skylight than SPECTRE's hidden base in a dormant volcano. It was pretty cool.
My vacation will be ending soon… our director Axel Sand delivers his cut of FAST TRACK on Friday and on Saturday I head Action Concept studios in Cologne to do my cut. I've got about five days to work in the editing room…and then it's off to Lohr to teach the principles of American TV writing & producing with writer/producer Jack Bernstein. Jack and I worked together on DEADLY GAMES, but we've also both worked separately on SHE SPIES and MONK. He's a great writer and a very funny guy, so it should be a lot of fun.
In the mean time, I have been re-reading a book that I've optioned, going through it with a highlighter and getting a feel for what the "screen" story will be…I hope to be able to get to work on that script (along with MONK #6: MR. MONK GOES TO GERMANY) while I am awaiting word on whether FAST TRACK will be picked up or not.