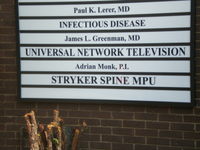 Today I went out to Summit, NJ to visit MONK creator/showrunner Andy Breckman and his staff. They aren't exactly keeping a low-profile in town, as proven by the picture on the left of their building (click on the picture for a larger image). On the train ride out there, I came up with the plot for MONK #8 which, much to my relief, Andy liked. We talked for an hour or two about the murders for the book and then I sat in to hear the beats for the 100th episode — it's g0ing to be a great one.
I returned to Manhattan in time to attend the MWA's Agents & Editors party, where I ran into Mel Berger, who was my first agent ever, and chatted for a bit with a woman who loves me, which is always a thrill.
At the party, author Twist Phelan told me that she'd met a woman today who introduced herself as a "pre-pre-published author" and said she was attending the Crime Writing conference to meet an agent.
"What does 'pre-pre-published' mean?" Twist asked.
"I have an idea for a book but I haven't started writing it yet," she said.
"And that's how you plan to introduce yourself to agents?"
"Yes," the woman said.
Twist said don't, and went on to tell her just how stupid calling herself "pre-pre-published" was. That was definitely a new one on me.