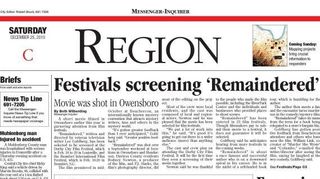 The Owensboro Messenger-Inquirer reported today about REMAINDERED being chosen as a finalist in two film festivals so far. The article said, in part:
"Remaindered," written and directed by veteran television writer Lee Goldberg, has been selected to be screened at the Derby City Film Festival, which is Feb. 18 to 20 in Louisville, and the Beaufort International Film Festival, which is Feb. 16-20 in Beaufort, S.C.

The film premiered in mid-October at Bouchercon, an internationally known mystery convention that attracts mystery writers, fans and others in the mystery world.

"It's gotten greater feedback than I ever anticipated," Goldberg said. "Greater positive feedback."

"Remaindered" was shot over a September weekend at locations in Owensboro and Henderson. Daviess County residents Rodney Newton, a producer of the film, and P.J. Starks, the film's photography director, did most of the editing on the project.

Most of the crew were local residents, and the cast was composed of local and regional actors. Newton said he was pleased that the movie has been selected for film festivals.

"We put a lot of work into this," he said. "It's good it's going to get out there to a wider audience (more) than anything else."

The cast and crew plan on attending the Derby City Film Festival. It will be the first time they seen a screening of their movie together.

Newton said he was thankful to the people who made the film possible, including the RiverPark Center and the individuals and businesses who provided places to shoot scenes.

[…]Goldberg filmed "Remaindered" in Owensboro after participating in the 2008 and 2009 International Mystery Writers Festivals at the RiverPark Center.

Goldberg called "Remaindered" a great calling card for the mystery festival. The festival was canceled in 2010 because state funding came through too late for RiverPark officials to raise matching funds. The RiverPark Center hasn't decided if it will host the festival in 2011.

Goldberg said another city will decide to host the festival if Owensboro doesn't.

"This film is like a Goodwill ambassador for Owensboro and the mystery writers festival all around the country," he said. "I just hope that the folks in Owensboro continue to support the festival."

Goldberg said he's been flattered by the film's reception, not just for himself, but for the cast and crew as well.

"I was just lucky to be the captain of the ship," he said.
Many thanks to reporter Beth Wilberding for the great article.